Latest thrust
At the moment, Russia and India are rekindling their trade relationship, mainly in the energy and defense sectors, but not only.
The latest Western sanctions against Russia have proven to be a blessing in disguise as Russia is now grabbing hold of new opportunities near and far. This opens a particular window of opportunity for Russia and India to cooperate on wide-ranging matters; and one region where common interests are starting to converge is the Artic – once the world's final frontier, now a gateway to new beginnings.
On March 28, 2023, Indian Ports Shipping Minister Sarbanda Sonowal tweeted after his meeting with Alexei Chekunkov, Minister for the Development of the Russian Far East and the Arctic: "Discussed furthering India-Russia ties in the maritime sector including cargo transportation along Northern Sea Route, container shipment between ports of Russian Far East & India, operationalising Chennai-Vladivostok corridor and training of Indian seafarers in Arctic waters."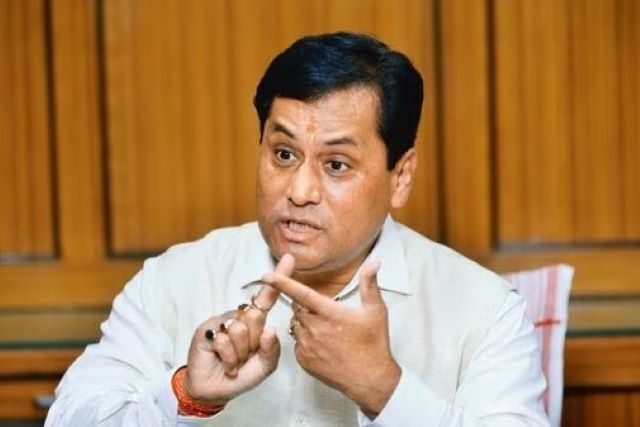 Union Minister Sarbananda Sonowal / Pradeep Gaur. Mint
The meeting was held against the backdrop of Russia's Far Eastern Shipping Company (FESCO) opening a new direct shipping route between Novorossiysk Sea Port on Russia's Black Sea Coast and Mumbai Port, which lies midway along the west coast of India.
The said development clearly reflects India's interest and participation in expanding the use of the Northern Sea shipping route. This sea route running along Russia's northern coastline is, in fact, the shortest shipping route between Europe and East Asia. It is likely to reduce the transportation cost of sea cargo from Vladivostok to India by 30 to 40% as compared to shipping from Moscow. Russia and India are presently negotiating the building of processing facilities and other construction to expand the use of this route.
Aligning the global leadership agenda
The two countries are adeptly taking advantage of their leadership of multilateral forums to align their national foreign policy goals, whilst also paying obeisance to each other's global aspirations and stances.
As part of Russia's chairmanship of the Arctic Council (2021-2023), the country strove to build regional cooperation through environment protection initiatives and attract investment from global actors (both states and companies), and contributed towards improving the standard of living for indigenous people in Arctic countries until member countries unilaterally suspended cooperation with Russia on March 3, 2022.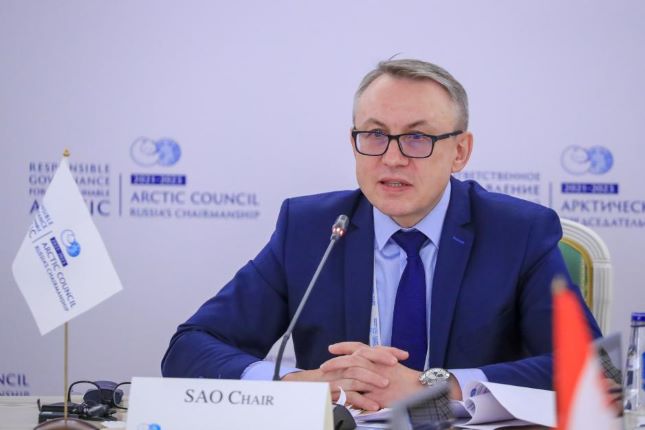 Russia's Arctic Ambassador and Chair of the Arctic Council Nikolay Korchunov during a plenary meeting for Arctic officials in the fall of 2021. / Vyacheslav Viktorov. Roscongress
However, Russian specialists are cooperating with colleagues from Arctic Council observer states, including China, India, and Brazil, to set up the Snezhinka Arctic Station, a year-round and autonomous complex that will operate using renewable energy sources and hydrogen energy, in the Yamal-Nenets Autonomous Area (YNAA).
This year, India is widely celebrating its G20 presidency with cultural functions, inter-ministerial conferences, and well-publicized think tank talks with international experts. As the chair, India has maintained a balanced approach towards global events. Despite undue pressure from G7 countries, it has avoided mentioning the Ukraine war, and Russia has applauded India's "constructive role" in the presidency.
Russia's Arctic Strategy for 2020-2035, which was amended on February 21, 2023, emphasizes the "development of relations with foreign states on a bilateral basis … taking into account its national interests in the Arctic." This indicates Russia's pursuit of both the "Easternization" of the Arctic and new channels for investments coming from Asian countries, which is in line with the growing potential and trend of increased overseas investments by many Asian countries in the 21st century, commonly known as the "Century of Asia."
India, for its part, has been more active in different Arctic-related matters in recent years, beyond its traditional focus on scientific research. It released its new Arctic Policy on March 17 2022. Jitendra Singh, India's Minister of Earth Sciences, said while releasing the policy: "India's Arctic policy will play an essential role in preparing the country for a future where humankind's biggest challenges, such as climate change, can be addressed through collective will and effort."
The focus of the policy is to strengthen India's cooperation with the countries in the Arctic and combat climate change. Here "strengthening cooperation" does not mean exclusively scientific collaboration, but also fostering partnerships on the economic and investment fronts.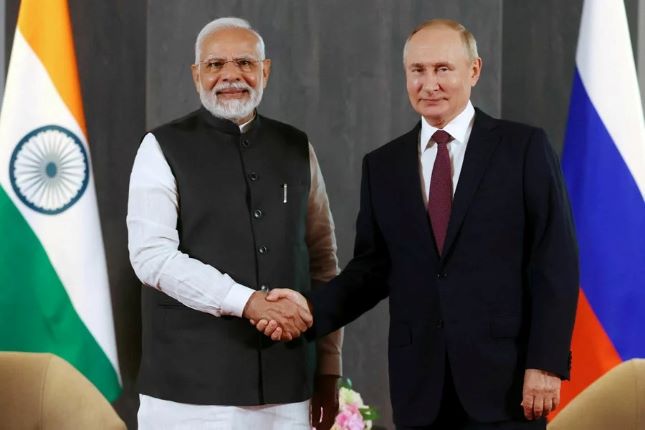 Russian President Vladimir Putin meets with India's Prime Minister Narendra Modi on the sidelines of the Shanghai Cooperation Organisation leaders' summit in Samarkand, Uzbekistan, on Sept. 16, 2022 / AFP via Getty Images
Since early 2021, India has been increasingly importing Russian Arctic crude. From April to December 2022, it imported about 64,000 barrels of Arco and Novy Port-grade Arctic crude per day. In September 2021, Mazagon Dock Shipbuilders, an Indian government-owned company that manufactures naval warships and submarines, signed an agreement for commercial shipping and the building of ships for Zvezda, the largest shipyard in Russia. This cooperation is aimed at enhancing the flow of resources, mainly oil and natural gas, via the Northern Sea Route.
Expert comments
Dr Sulagna Chattopadhyay, President of SaGHAA, a New Delhi-based think tank working on Polar issues, said the following in an interview:
India and Russia are looking to build their resource alliances [alluding to coal and oil] in the Arctic. It is important for Russia to hold a robust bi-partite relationship with India on this front, as the closest contender to these resources is China with whom Russia has shared a friendly yet spirited rivalry in the past. India has been looking to engage the interest of oil companies, but with little success. In Yamal, for instance, the Chinese stakes are 60% of capital investment, while India is expected to make a deal between GAIL and Novatech in Yamal in 2023.
She added: "Apart from LNG, India can collaborate on exploiting offshore hydrocarbons, rare earth, and marine manpower."
History redefining the future
Russia and India have been "civilization-states" evolving along different pathways in modern times. However, both countries have managed to hold onto their own national ethos distinct from that of the West, creating a clash of interest at a time when the West is struggling to effectively control the rest of the world due to the power balance shifting towards the developing world, and especially towards Asia.
This emerging world order, with its gradual decline in the US-NATO global hegemony, presents a situational opportunity for Russia and India to join hands and fill in the power vacuum. The two countries need to work in a deliberate manner to conceptualize and execute joint projects; they need to establish a greater cooperation for building a regional and global order where trade flows in an unhindered manner and the rules of the game are same for all participating countries, whether small or great.
At this juncture, there is a mutually complementary opportunity for Russia and India to engage in the Arctic. India needs Russia, which owns nearly 80% of the oil and gas under the Arctic shelf, to make inroads into the Arctic and meet the energy and resource needs of its growing young human resources.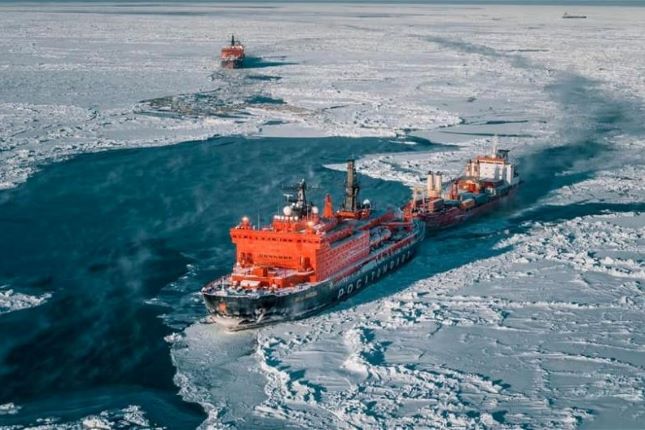 The Northern Sea Route is one of Russian President Vladimir Putin's flagship projects and he recently said that the country is aiming for year-round sailing along this shipping lane. Russia is currently investing heavily in infrastructure along the NSR in the Russian Arctic. / Rosatom
Meanwhile, Russia needs strategic (geo-political) cooperation with India in the Arctic to leverage the latter's good relationship with Western countries, including the US, which would significantly offset the ill-intended sanctions against Russia.