Russia has just hosted yet another landmark Eastern Economic Forum – its seventh and the first since the launch of Russia's special military operation in Ukraine – held on September 5 to 8 in Vladivostok.
This time the forum's main theme was captured in its slogan, "Moving Toward a Multipolar World". The events in Ukraine that had dramatically damaged Russia's relations with the West have accelerated the country's pivot to the East in its search for alternatives to the West's finances and technologies.
This presents a unique opportunity for countries in the Asia-Pacific region willing to offer their solutions to Moscow's problems. That said, the time to take advantage of this opportunity is right this very moment because otherwise, there is a chance that someone else might fill the void left by the departure of the Western players.
All of this is happening against the backdrop of escalating ideological confrontation between Russia and the West. While the US and the EU tout the idea that Moscow has become isolated from the global community, the Kremlin, in turn, needs to show the world its continued involvement in global affairs, that it remains a key global player and an independent political centre in its own right.
At this juncture, proving this ideological point is just as important to Russia's leadership as taking care of its current economic challenges. Russia is known to be able to appreciate it when it is treated nicely and with respect and is prepared to reciprocate in kind. And this is precisely why those who made it to the Eastern Economic Forum can count on getting a special treatment, as opposed to those who chose to ignore the forum, as they will most certainly be made to regret this in the end.
This year's forum in Vladivostok saw Russian President Vladimir Putin being joined by China's Li Zhanshu, Chairman of the Standing Committee of the National People's Congress, Nikol Pashinyan, Armenia's Prime Minister, Min Aung Hlaing, Prime Minister of Myanmar, and Mongolian Prime Minister Luvsannamsrain Oyun-Erdene. India's and Malaysia's Prime Ministers Narendra Modi and Ismail Sabri Yaakob also attended via video link.
China has sent the world a compelling message by reiterating, through its representative Li Zhanshu, that Beijing continues to strongly support Russia's position. Observers couldn't help but take note of the poetic choice of words interspersed the speech delivered by China's envoy. In it, Li made references to the beautiful Far East of the future that China intends to support, hailed the EEF as an example of economic triumph, and expressed China's satisfaction with the fact that, under President Putin's leadership, Russia's economy had not crumbled under the pressure exerted on it by the US and its satellites.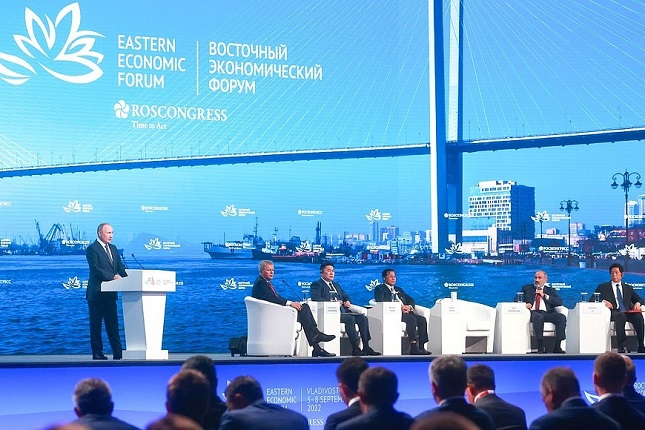 Speech at the plenary session of the Eastern Economic Forum. Photo: Stanislav Krasilnikov, TASS Photo Host Agency.
In addition, Li Zhanshu echoed the view of the Russian president that a multipolar world represents an irreversible trend. As Vladimir Putin is expected to have a face-to-face meeting with China's President Xi Jinping at the SCO summit in the coming days, there is every reason to believe that their meeting will take place in the most favourable atmosphere.
The EEF has traditionally been a venue where Russia devotes particular attention to its interactions with China. China is one of the world's largest economies and a natural trade and finance hub. The economies of Russia and China are mutually complementary. The two countries share a long border and implement multiple joint logistics projects. China is currently importing nearly a third of its frozen fish, 28% fertilisers, about 20% timber, and 13% of energy resources from Russia. In addition, Moscow is interested in using the Chinese yuan and other friendly countries' currencies to accumulate currency reserves.
At the same time, analysts note that betting on China's growing demand for Russian goods is limited. The Chinese economy is gradually slowing down amid frequent lockdowns and ongoing confrontation with the United States. Consequently, Russia needs to explore alternative ways of interacting with China and continue developing relations with other partners. This is probably why the Russian president stopped short of referring to China as Russia's primary economic partner in the Asia-Pacific region.
The same factors, the coronavirus-related problems and the issue of Taiwan, make China more motivated to improve relations with Russia and other countries, including BRICS and SCO members. This approach is a distinctive feature of China's foreign policy, given that Beijing is known for taking all of its major steps only after rallying as much support from other countries as possible. It is, therefore, hardly surprising that joint events with Russia and other Asia-Pacific countries in Vladivostok are of great interest to the Chinese leadership.
During the forum, Moscow and Beijing agreed on gas prices and finalised other details of Russian gas supplies to China via Mongolia, a country that Putin described as a friendly and politically stable state. Russia-Mongolia ties are expected to become even closer. For example, Rosneft held a successful round of negotiations with the Mongolian leadership, with both parties agreeing to expand cooperation and increase Russian energy supplies.
When Myanmar's Prime Minister Min Aung Hlaing took the floor, he lavished praise on Vladimir Putin. According to Min Aung Hlaing, Putin is more than just the president of Russia as he is the head of the whole world, whose job is to ensure global stability. The flattering opinion is probably due to the fact that Myanmar's military junta headed by Min Aung Hlaing badly needs allies and partners. It is no coincidence that trade turnover between Russia and Myanmar has jumped nearly two and a half times in the first six months of this year.
In his address to the Eastern Economic Forum, Armenian Prime Minister Nikol Pashinyan did not talk about trade relations. Instead, he focused his attention on regional security in the South Caucasus rather than security in the Asia-Pacific. He warned that while the world was closely watching the events in Ukraine, Azerbaijan could escalate the conflict over Nagorno-Karabakh and destabilise the situation in the South Caucasus further. Pashinyan called Russia an ally, dismissing allegations that his government was pro-Western.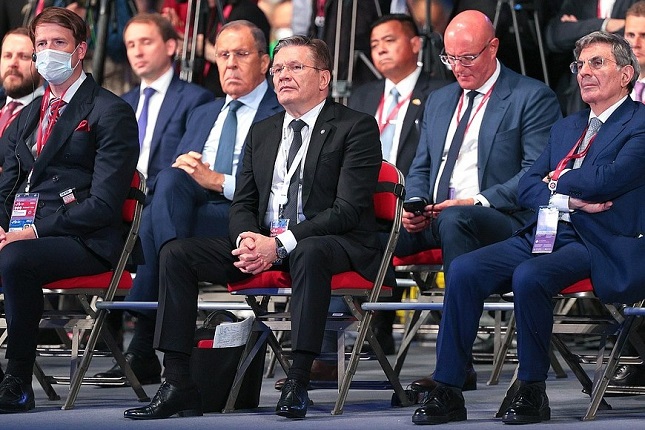 During the plenary session of the Eastern Economic Forum. Photo: Vladimir Smirnov, TASS Photo Host Agency.
The Eastern Economic Forum culminated in Vladimir Putin's address. This time, the Russian president covered a broad range of global issues far beyond Asia-Pacific. In his address to the forum, Putin spoke extensively about the global challenges associated with America's efforts to impose its will on other countries. The Russian president praised those Asian countries that have not succumbed to the West's sanctions hysteria and joined Russia in pursuing a sovereign and independent policy.
President Putin stressed that countries with long-term energy deals with Russia would strengthen their competitive position amid a deepening global energy crisis. By contrast, Europe is facing a looming recession and, unlike Russia, is also grappling with double-digit inflation. According to the Russian president, Western leaders have no one but themselves to blame for the world's grave economic problems.
The Russian president paid particular attention to the idea floated by Western countries to cap Russian energy prices. Calling it foolish, he pointed out that it would be easier for everyone to allow gas supplies via Nord Stream 2 and provide Russia with documentation related to the gas turbines designed for Nord Stream 1. The Russian president added that the EU is unlikely to make any pragmatic, independent decisions in the foreseeable future, given that European authorities are dancing to the tune of the White House.
Covering the Russian president's address, Western media singled out Putin's criticism of the Ukraine grain deal mediated by the UN and Turkey. The Russian president believes the agreement may have to be revised, considering that only 2 out of 87 ships loaded with Ukrainian grain made it to starving countries. The remaining ships went to EU nations. It follows from Putin's remarks that, in reality, famine in the Global South has been triggered by Western countries.
In addition, Vladimir Putin is concerned about Western restrictions on Russian agricultural exports. These restrictions were supposed to be lifted as part of the Istanbul grain deal, but there has been no progress in this regard. Turkish President Erdogan supported Vladimir Putin's point of view, saying that Russia's claims were legitimate and the West should consider them. Still, some analysts believe the Istanbul deal may be scrapped. Among other things, this is not in the interests of the Turkish president, who has gained much influence in his dealings with the West and the Global South countries while brokering the grain deal.
Overall, the Russian president's speech and the agenda of the Eastern Economic Forum have reconfirmed that Moscow no longer expects its relations with the West to improve any time soon. It is also obvious that Russia is working on an alternative trade and political ties system. The pivot to the East got underway long ago, but it has become vitally important in recent months.
Foreign investment in the Russian economy is another pressing matter. On the one hand, Russia is coping with the impact of Western sanctions. On the other, several major American and European companies have pulled out of the country, leaving behind infrastructure facilities available for sale at a discount. Russian businesses have acquired some of these assets, but the local economy also needs an injection of capital from Asian countries.
As matters stand now, Russia's partners in Asia prefer to play it safe, waiting for more clarity on the Ukraine conflict and Russia's stand-off with the West. However, Russia displayed so much confidence at the Vladivostok forum that Asia-Pacific countries ought to be convinced by now that working with Moscow is in their long-term interests.
As for the recent measures taken by the EU and the US, the Russian president called them economic, financial and technological aggression against Russia. The president's tough summary highlights three areas in which Moscow is willing to interact with all countries. Russia is also prepared to reward such cooperation generously.
Main photo: Speech at the plenary session of the Eastern Economic Forum © Sergey Bobylev, TASS Photo Host Agency.