The state of relations between the United States and Turkey, two of the North Atlantic Treaty Organization's key players, could hardly be characterized as placid. Over the past few years, there have been visible tensions and rifts in the dialogue between the two countries. The list of mutual grievances is fairly long.
Washington is particularly vexed by Turkey's defiant refusal to join the US-led campaign of punishing and isolating Russia for its actions in Ukraine and, particularly, its snubbing of persistent calls by Europe to support the efforts aimed at ratcheting up the sanctions imposed on Moscow.
Not surprisingly, the recent trip of US Undersecretary of the Treasury Brian Nelson to Turkey has failed to yield any effective results. Nelson's publicly voiced threats, including suggestions that Turkey was running the risk of feeling the full brunt of Washington's second-hand sanctions against Ankara for its dealings with Russian banks and business operators, did nothing apart from causing Turkey's leadership irritation and heartburn. Turkey made it very clear that it intends to pursue its foreign policy without being any prodding by Washington.
The White House is clearly annoyed by Recep Tayyip Erdogan's ability to find common ground with the Kremlin, despite having serious disagreements over a number of regional issues, including those in the Middle East and over Ukraine. Thanks to its even-handed approach, Turkey has been able to capitalize on its interactions with the Russians in the fields of energy, defence and economic cooperation.
Of particular concern to the US are Russia's deliveries of its latest weaponry, including the S- 400 surface-to-air missile system, to Turkey. During Donald Trump's tenure as president, Turkey's decision to buy Russian-design air defence systems led to its expulsion from the F-35 fighter jet program and to the imposition of restrictions on some of the key players in Turkey's defence industry.
For Joe Biden's administration, Ankara's course towards intensifying its ties with Moscow is flat-out unacceptable. This explains the United States' constant barrage of criticism targeting Recep Tayyip Erdogan's government track record on human rights. At various levels, the Americans have been making their Turkish counterparts aware of their concerns about Turkey's systematic infringements on civil rights while expressing their condemnation of the suppression of opposition and independent media, as well as unlawful arrests of dissenters, including those holding US citizenship.
Predictably, such admonitions from across the Atlantic could not but provoke a backlash. Ankara has retorted with its own counterclaims and grievances against Washington, including the latter's refusal to extradite back to Turkey opposition leader Fethullah Güllen, a Pennsylvania resident since 1999, accused of playing a key role in masterminding the abortive 2016 coup.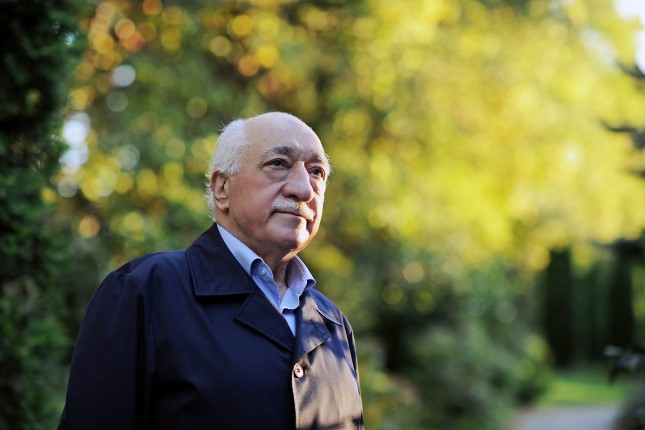 Muhammed Fethullah Gülen is a Turkish writer, Islamic religious and public figure. Former imam and preacher. Founder of the public movement "Hizmet". Honorary President of the Writers and Journalists Foundation. He currently lives in self-imposed exile in Sailorsburg, Pennsylvania, USA.
The two NATO allies continue to have some serious differences over the "Kurdish question," as was manifested recently by Ankara's move to block Finland's and Sweden's accession to the alliance. These differences seem to get particularly acute in Syria. Turkey views the Syrian Democratic Forces (SDF) made up of mostly ethnic Kurds as an existential threat to its national security. It counts them among the sympathizers of the outlawed Kurdistan Workers' Party and has been threatening to launch a yet another military operation to purge its Syrian underbelly of Kurdish terrorists. That said, with the emerging signs of a normalization of relations between Turkey and Syria brokered by Russia, the scenario of yet another escalation in Syria's north seems unlikely to materialize in the foreseeable future.
By contrast, the US troops that continue to occupy parts of Syria's northeast, regard SDF fighters as their reliable partner "on the ground" who is ostensibly assisting Washington in its fight against the ISIS insurgency in Syria. In reality, though, the Kurdish fighters are helping the US to illegally exploit the resource-rich Trans-Euphrates region while impeding Damascus' efforts to restore the territorial integrity of their nation. In return for their loyalty, the United States is paying its clients handsomely by supplying the Kurds with weapons and providing them with generous cash donations (US Congress approves between USD 200 million and USD 400 million in annual funding earmarked for supporting the SDF).
Ankara's neo-Ottoman ambitions in the Middle East and Eastern Mediterranean, coupled with its willingness to maintain a comprehensive dialogue with Moscow, are meeting fierce resistance on Capitol Hill. Some lawmakers linked to the Greek-Armenian lobby (including influential Democratic Senator R. Menendez) have called on the White House to act more resolutely with respect to Turkey, including by limiting the extent of the two nations' defence cooperation.
Biden's team seems to be taking heed of such recommendations as evidenced by the situation with Turkey's request for delivering and upgrading a large number of F-16 fighters (a total of 120 aircraft). The future of this arms deal, that has been on hold since October 2021, is regularly discussed at various levels, including during a recent (on February 19 and 20) visit to Turkey by the Secretary of State Antony Blinken who arrived there to offer the United States' condolences over the horrendous number of victims of the recent devastating earthquake in the country's South East.
Despite Ankara's status of a "problem ally," Washington is unlikely to revise its bilateral relations with Turkey in any drastic way. People in the US administration know all too well that too much pressure has a tendency to backfire and could push the Republic of Türkiye even closer to Russia.
The Americans might opt for maintaining the current status quo while keeping Turkey in a constant state of stress. Such a course of action would allow the White House to capitalize on Turkey's ambitions and mediation potential to help advance the US foreign policy agenda, including in the context of the events in Ukraine.
One of the most pressing issues on the agenda is the implementation of the so-called "Black Sea Grain Initiative" aimed at securing safe passage of food exports from Ukrainian ports to global markets. A potential extension of the deal (due to expire on March 18) would benefit not only Biden's team but would also be in Erdogan's best interest. If everything falls into place, he will be able to claim an important diplomatic victory right on the eve of Turkey's presidential elections scheduled for May.