U.S. President Joseph Biden has become an object of ridicule both at home and abroad. The mockery mainly stems from the president's irregular behavior, a condition similar to senile dementia. White House spokespersons have to refute or correct Biden's statements almost daily while the president's protocol team constantly provides him with such written prompts as "Sit down here. Stand up. Look there".
The fact that Biden is no longer regarded as a key player is so obvious that the global political elite did not seem particularly concerned in July when the elderly U.S. leader tested positive for coronavirus. This reaction spoke volumes given that the disease could have been fatal at the president's venerable age. However, the current state of affairs is not as amusing as it may seem at first glance. Considering the ongoing global crisis, it is imperative to resolve strategic issues at the top level "here and now". As it turned out, there is no one to talk to at the helm of the world's number one omnipresent power. What's more, similar patterns are taking shape in other Western countries. Unfortunately, these alarming developments may cause uncontrollable adverse consequences and even trigger a global catastrophe of unprecedented proportions.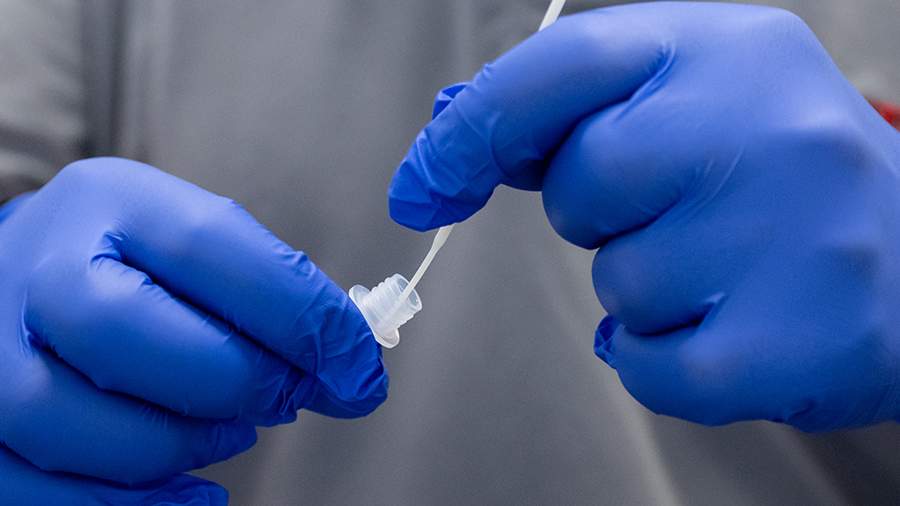 Covid tests. Photo: Global Look Press/Sven Hoppe.
President Biden's total incompetency became apparent during his recent visit to the Middle East. The president's trip to the region was driven by a strategic priority: Biden had to negotiate much higher crude oil flows and secure lower fuel prices amid the unfolding energy crisis and continuing confrontation with Russia. In addition, it was essential to ensure that regional vassals should demonstrate personal loyalty to their suzerain. Lastly, the "chemistry" of personal relationships is extremely important in any crisis, but it is absolutely critical now, in the light of a looming military stand-off between regional powers and Iran.
However, things went badly for Biden from the very start, and the visit turned into a series of public embarrassments for the leader of the world's most powerful state. To begin with, during a joint press conference with Israeli Prime Minister Naftali Bennett, Biden said that he was "glad to be in Saudi Arabia". When Biden finally arrived in Saudi Arabia, he insulted the de facto ruler of the state, Crown Prince Mohammed bin Salman, by saying that he held the crown prince responsible for the murder of journalist Jamal Khashoggi. In fact, the list of Biden's gaffes goes on and on.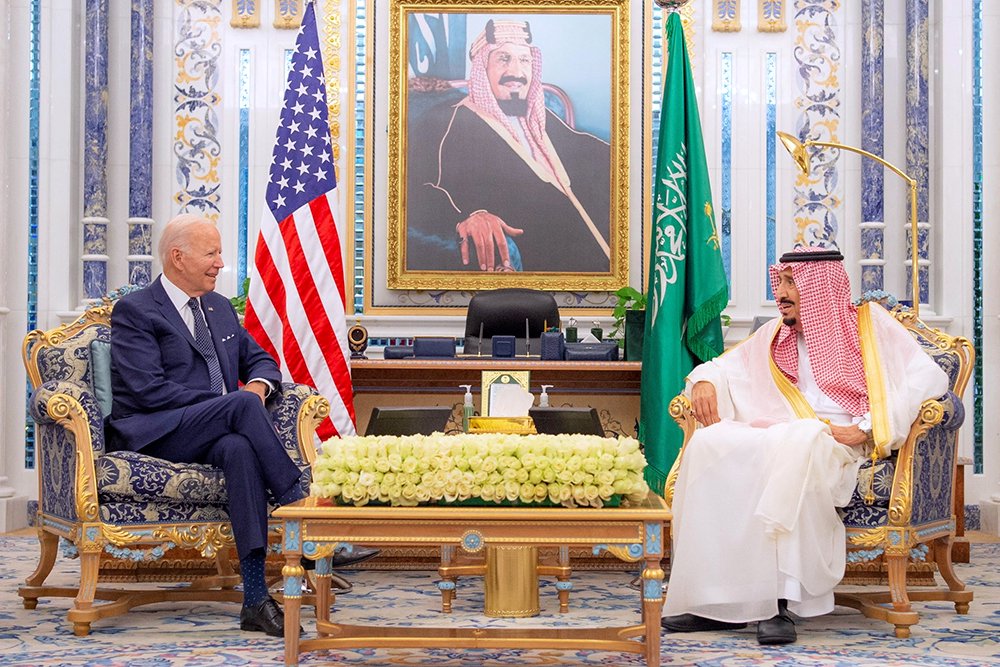 US President Joe Biden in talks with King Salman bin Abdulaziz Al Saud of Saudi Arabia. Photo: SAUDI ROYAL COURT / Reuters.
Previously, the U.S. establishment was robust enough to mitigate such incidents so occasional presidential gaffes or even blunders always remained mere slips of the tongue. As a result, the clumsy remarks of Ronald Reagan or the verbal nonsense of George W. Bush never gave reason for concern over America's future. The powerful state machine and seasoned executives in the higher echelons were always around to stand by their president. Moreover, succession and the transfer of power were never perceived as an issue either as there was always someone on standby to step into the ring if required.
As for today's political landscape, Biden is completely alone in the middle of a scorched desert. Besides, there is still a question mark over the legitimacy of his presidency. During the previous election campaign and immediately after Biden's win in the 2020 presidential race, Vice President Kamala Harris was viewed as Biden's successor and de facto head of state, the real protégé of America's influential "leftist" elite. However, she quickly disappeared off the radar and lost nearly all of her teammates as her top aides turned their backs on the vice president and resigned.
Some time ago Kamala Harris, who as vice president is supposed to succeed Biden in case the president has to step down, made headline news again. "Women get pregnant every day in America, and this is a real issue," she said in reference to abortions which were recently banned in several states. Judging by what she says and does, Harris is as irregular as her boss who, incidentally, has mistakenly referred to Harris as "head of state" on more than one occasion.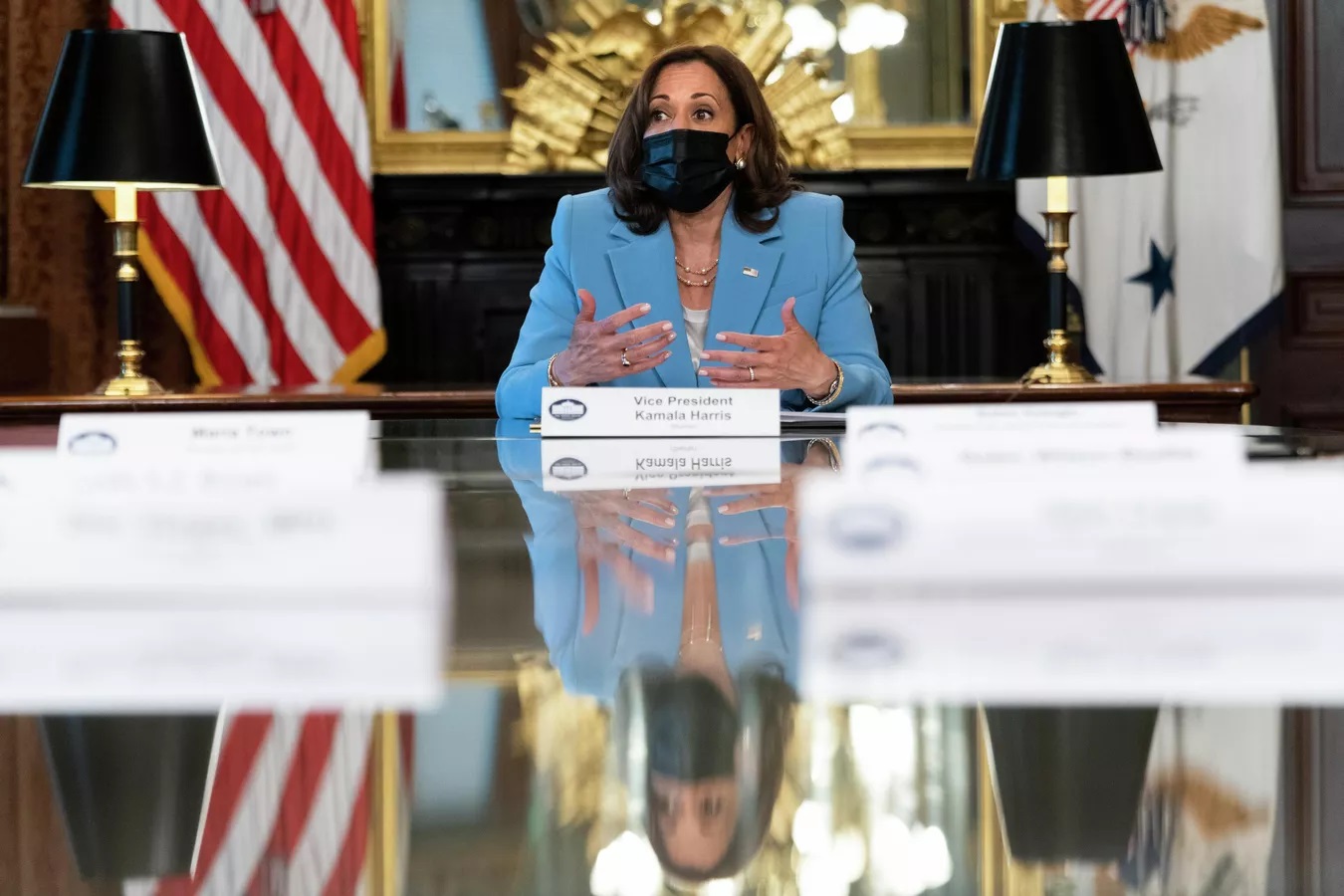 US Vice President Kamala Harris during a meeting at the White House dedicated to the topic of abortion. Photo: Jacquelyn Martin.
The overexcited Foreign Secretary Anthony Blinken does not inspire much confidence in the U.S. and its leaders either. In addition, video footage has repeatedly shown how indifferent Biden's administration officials and aides are to their aging and sick president: abandoned and left to his own devices, Biden was alone at a number of public events. Clearly, the entire system of the Biden administration is rotten to the core. As a consequence, it is evident to all that at a crucial point in history there is no one worth talking to in the White House. Communicating with different influential elites through private channels is not particularly appropriate in critical circumstances, especially if the top leadership is bypassed.
It is unprecedented and worrying that the world's largest economy and military have no captain or crew in the midst of a storm. No wonder that in the interest of survival both geopolitical opponents and "client states" have to turn inward and reach out to other – albeit not global but understandable – centers of power, that is states that have leaders who are worth talking to. On the other hand, given that "the boss is away", local players may feel tempted to take rash actions, escalate tensions and even go to war, which will spark a chain reaction of events and lead to a global catastrophe.
To make matters worse, things are essentially the same in the corridors of power of other leading Western countries. Europe, for instance, is aspiring to a global role in the international arena and getting more and more involved in the war with Russia. Still, there is "nobody to talk to" in European capitals either. Boris Johnson, Britain's flamboyant prime minister, is on his way out and, in all probability, he will be replaced by Liz Truss, an even more erratic and irresponsible foreign secretary.
For one thing, Liz Truss is not much of an expert on political geography. For another, she does not even bother to fill the gaps in her knowledge prior to major political meetings. Shortly before the Ukraine conflict broke out, Truss demonstrated that she had no clue what country the Voronezh and Rostov regions belong to.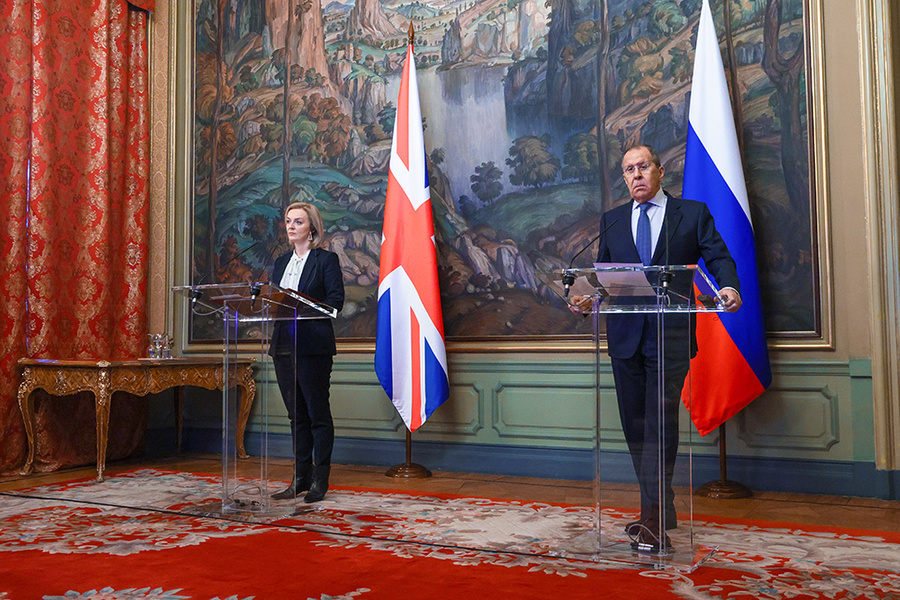 Russian Foreign Minister Sergei Lavrov and British Foreign Secretary Elizabeth Truss. Photo: Press Service of the Russian Foreign Ministry.
There is no politician worth talking to in France either. Despite his Napoleonic ambitions, President Macron did not blink when leaking transcripts of confidential discussions to the press, which does not add much to his credibility. Having a meaningful conversation with German Chancellor Scholz is hard to imagine, too. First, he was publicly humiliated by the ambassador of a failed state. Then, according to German media, Scholz attended a party where at least eight women were given a date-rape drug.
In contrast, Russian President Vladimir Putin, Turkish President Recep Tayyip Erdogan and Chinese President Xi Jinping, along with the leaders of Iran, Saudi Arabia, and many other countries, certainly look more credible. Sadly, this is not enough to improve the status quo and prevent a global disaster, especially considering that the world is still dominated by Western powers that do not have any politicians that are worth talking to.