On the night of August 1, 2022, Serbia and Kosovo nearly started a war over car number plates and documents that the unrecognised republic's government decided to change from those issued by Serbia to those self-issued, enraging Kosovo Serbs. This may seem like a trifle matter to start a war over, but the number plates are of iconic significance for Serbia which doesn't recognise Kosovo independence and considers Kosovska Mitrovica, along with several other inhabited localities in the unrecognised state's northern part, to be its own territory. According to Serbian President Aleksandar Vucic, his country has never been through a harder time before.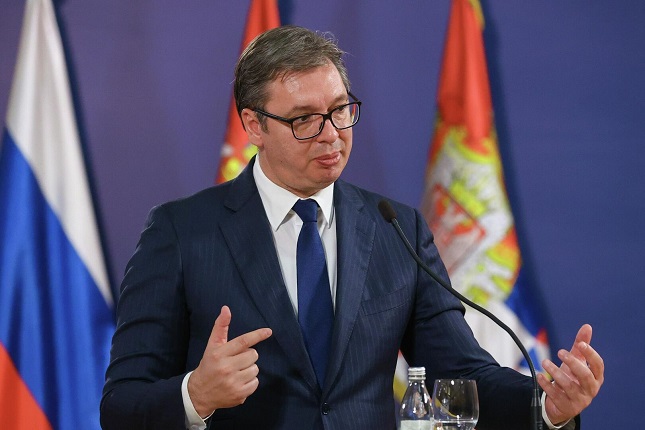 Alexander Vucic. Photo: RIA Novosti / Press Service of the Russian Foreign Ministry.
Such a sharp response, as well as mass protests, could be expected because over 10,000 cars have Serbian number plates in Kosovo. These motorists were addressed in their own language on the night of August 1 by the unrecognised state's Prime Minister Albin Kurti. The official called those number plates "illegal", saying that they must be replaced by September 30, 2022. Kurti also assured that neither maintenance nor the customs tariff of up to EUR 5,000 would be applied.

Albin Kurti. Photo: Andreas Gora, Keystone Press Agency, Global Look Press.
Authorities in Pristina technically meant to stop recognising Serbian documents and restrict entry into the unrecognised republic. Given this change, the Serbs would have needed to obtain temporary three-month documents, which would spell substantial trouble and disrupt routines.
In response, Serbia's Director of the Office for Kosovo Petar Petkovic, accused Pristina of preparing "an assault on Serbs". According to local media, Belgrade made its point even stronger by way of moving the army towards the border of the unrecognised neighbour (even some military aircraft were mentioned in reports). Kosovo Serbs began building barricades and blocking roads. Photos appeared showing numerous Kosovo police cars driving towards the border. There were even reports of armed clashes, later refuted.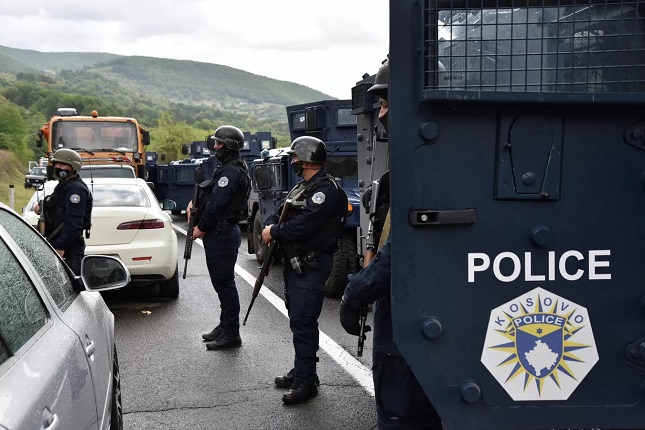 Kosovo police. Photo: Reuters / Laura Hasani.
Meanwhile, Belgrade and Pristina traded the usual accusations. President Aleksandar Vucic said: "The regime in Pristina is trying to pose as the victim and use the global situation to play the 'mini-Putin threat' card while Kurti is taking on the role of Zelensky".
Prime Minister Ana Brnabic supported her superior, saying: "Kurti is someone whose only policy is constant violence and provocations. Kurti is the one who made the situation deteriorate by way of silencing the Serbs, banning elections in Kosovo, failing to abide by the Brussels Agreement, and openly saying that Pristina will never abide by them".

Serbian Prime Minister Ana Brnabic speaks during a joint press conference after a meeting in Berlin, Germany, September 2019. Photo: Epa-efe/Hayoung Jeon.
Curiously, one of Donald Trump's most fervent supporters, Richard Grenell, who was Ambassador in Germany and used to specialise in Belgrade-Pristina talks, made statements to a similar effect. The diplomat called Kurti an ultra-left and a fascist who is to blame for everything.
In response, Kosovo Premier accused Vucic of escalating the conflict, saying: "Before the issuance of documents allowing entry and exit from Kosovo commenced, illegal structures blocked motorways, something they had been planning for previously. Statements, meetings, and gatherings in Belgrade and Raska preceded that. These aggressive acts were planned for and instigated there. Vucic and Head of the Office for Kosovo and Metohija Petkovic are responsible for the unrest".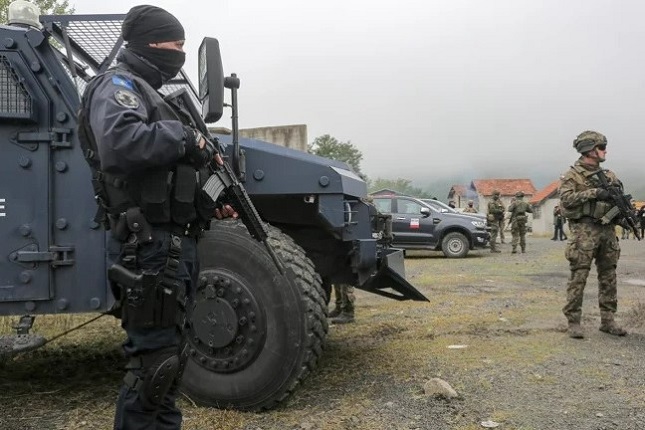 NATO-led international forces on the line of demarcation between Serbia and Kosovo. Photo: AP / Visar Kryeziu.
The tensions peaked when NATO-led KFOR forces said they might intervene in the armed conflict. The alliance made it clear that they were prepared to move 3,600 soldiers from Naples into the republic.
In this regard, President Vucic met with NATO delegates and leader of Kosovo Serbs Goran Rakic at the General Staff meeting. At the same time, US Ambassador in Kosovo Jeff Hovenier held talks with Albin Kurti, urging him to postpone the required replacement of number plates and documents by a month. "We do not ask for a cancellation of the decision," the Ambassador added.
As a result, Kosovo did put the plate-replacement legislation on pause until September 1. And barricades began to be dismantled in the frontier areas of the self-proclaimed republic.
Experts note that stability in Kosovo is important for the US and NATO because of the presence of Camp Bondsteel there, one of the largest American military bases in Europe. It is smaller than Ramstein in Germany, but still a very powerful military object.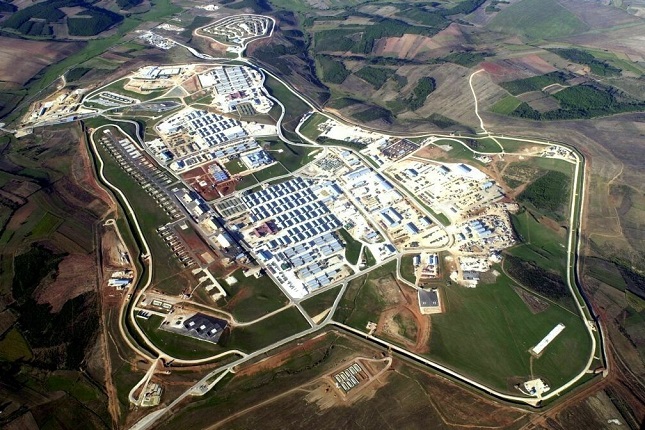 Aerial photo of Camp Bondsteel. Photo: KFOR, Task Force Falcon Public Affairs Office.
The 2013 Brussels Agreement was meant to normalise the relations between Belgrade and Pristina, something that the Serbs now accuse the Kosovars of failing to do. Kosovo was supposed to set up an Association of Serb Municipalities (ASM), a self-rule agency for the Serbs residing in the unrecognised republic.
The Constitutional Court of Kosovo ruled in 2015 that the ASM contradicted Kosovo's fundamental laws, causing the settlement process to gridlock. This is a principal issue for Belgrade, yet Kosovo has refused to do anything about it since.
It is not for the first time that the situation with car number plates becomes a point of contention for Serbia and Kosovo. Last year's attempt to unify the documents and number plates resulted in the Kosovo Serbs' barricading off the border check-posts, the unrecognised government's using special forces, and Serbia's engaging military aircraft.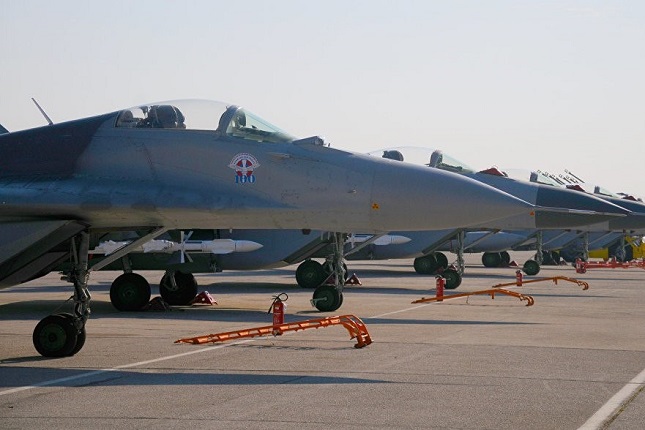 MiG-29 fighters transferred by Russia at the Batajnica airfield in Serbia. Photo: RIA Novosti / Oleg Ivanov.
The situation resolved when the number plate issue was postponed by nine months. Obviously, that wasn't enough to find a way out that would suit everyone. The problem is aggravated by the extremely militant moods on both sides, meaning that any compromise would create risks for both governments which have to keep up their fierce rhetoric.
The Serbia-Kosovo tensions may evolve in several different ways. The optimistic scenario is that there will be no war between the two Balkan neighbours. Both Serbia and Kosovo are candidate EU members and their economic dependence on the European economy is incompatible with military action. European investment in Serbia accounts for 76% of total foreign investment received by the country. Optimistic experts also say that Belgrade and Pristina mean to coerce Brussels into giving them grants, concessions, and less harsh EU entry requirements, not to wage war.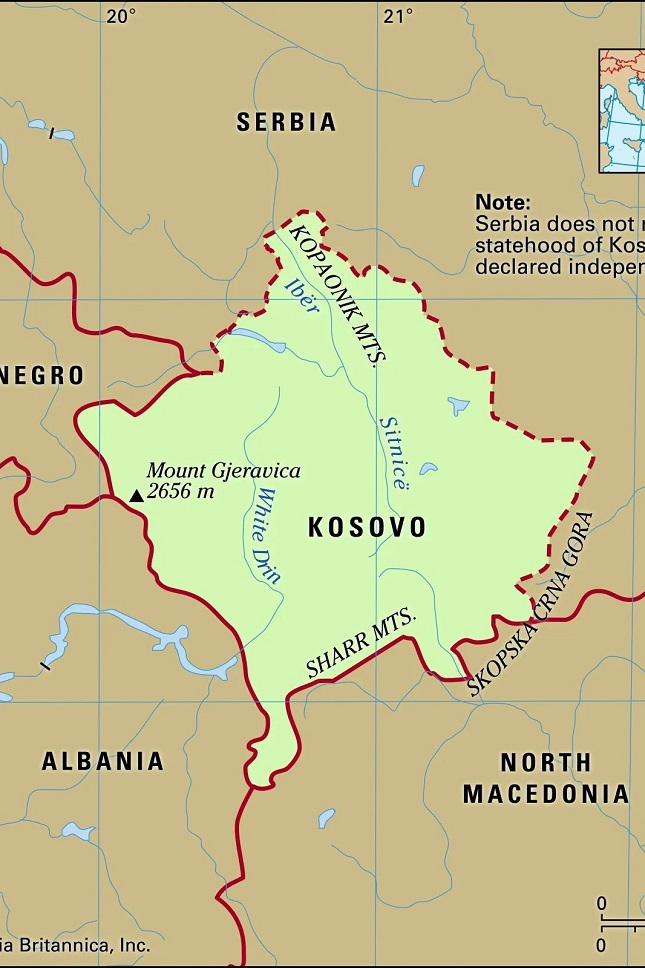 Kosovo on the map of Europe. Photo: Encyclopædia Britannica, Inc.
However, the Serbian website Kosovo Online disagrees with that, calling Kurti an opportunist who wanted to make Kosovo Serbs and Serbia look small and have them do as they are told to when it came to the revocation of Serbian number plates and documents. A NATO intervention has stopped him, reminding him who was in charge, but the problem was only postponed, not solved.
Meanwhile, media say that the EU was extremely frustrated by the Serbia-Kosovo tensions. The European Commission sent a message to Belgrade to the effect that the conflict would seriously affect both countries' entry plans. President Vucic had no other option than to say that his country found it very important to try to solve the Kosovo issue peacefully. Besides, it has been privately noted that the Serbia-Kosovo problem is of much interest to French President Emmanuel Macron, who is said to be going to insist on Vucic's resignation, otherwise Serbia would be denied entry.
The negative scenario implies that the routine tensions will eventually deteriorate into a dangerous conflict. The tensions have been worsening regularly since 1999, when the unrecognised state received a de facto independence following the NATO campaign in Yugoslavia. The European Union has been playing the key role in the Balkans ever since, solving problems for the sake of future integration of the region. But Brussels has failed so far to find a solution to the Kosovo problem that would satisfy Serbia.
Now, weakened by the energy crisis and social problems, the EU will be barely able to hold real responsibility for the extremely difficult political situation in its immediate outskirts. On top of that, Russia, one of Serbia's key partners, is in terse confrontation with the US and EU and thus unlikely to use its influence on Serbian politics to help the West resolve the Balkan controversy. Given the Europeans' weakness and the Kosovars' readiness to make concessions, the Serbs have proved their ability to mobilise and stand up for their interests.
Main photo: Blocked roads / Marko Djurica / Reuters.