If you were to ask rank-and-file Tories at a Conservative Party conference to explain why they supported Liz Truss, you would certainly hear one line – she promised to cut taxes. This seems to be the commonest answer these days, indicating the most coherent commitment that Britain's newly appointed prime minister has made so far.
The rest of her campaign agenda was rather vague as Truss mainly appealed to the hearts of Conservative Party members rather than their minds. In particular, she dismissed the gloomy predictions made by her leadership opponent, Rishi Sunak, who warned that Britain was headed for hard times and, incidentally, called for higher taxes. Without going into detail, Liz Truss responded by pledging to lead the United Kingdom into a better future.
Radiating optimism and sparing her party members the details, Mary Elizabeth Truss, 47, has become Britain's third female prime minister. However, Truss won the membership stage of the party's leadership contest with a record low margin of 57% of the vote, reflecting concerns that she starts her time in office from a rather weak position.
It is worth remembering that the Tories have acquired a taste for rotating their leaders: before ousting Boris Johnson, they kicked out Theresa May. If this trend continues, the Tory party may get rid of Liz Truss fairly quickly, too. Generally speaking, it is interesting to note how one of the oldest democracies in the world works: a tiny slice of the British electorate – 170,000 registered members of the Conservative Party – may decide who will lead the government of a country inhabited by 67 million people.
Besides Truss's loyalty to the Conservative Party and its leadership, Britain's high-ranking politicians and officials speak highly of other qualities the new prime minister possesses. For example, Garvan Walshe, a former security policy adviser to the Conservative Party, said that people often make fun of Liz Truss's voice and enthusiasm but do not seem to realise that she is a very smart politician who has made her way up the ranks of the party for the last 20 years. In a comment for Politico, a supportive Tory MP compared Truss's approach to that of Margaret Thatcher, suggesting that the country could be headed for a 1980s-style economic and social transformation under Truss.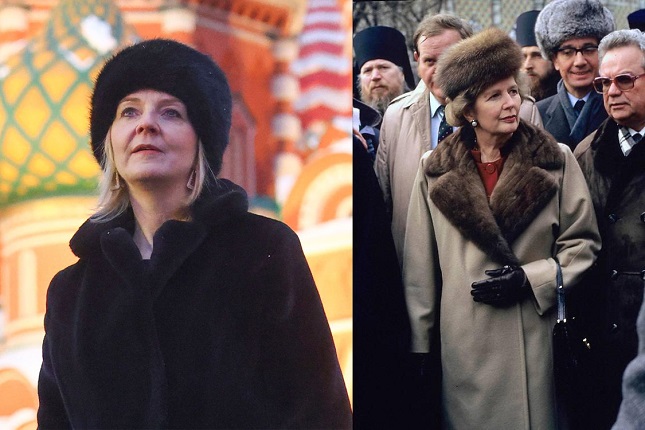 Liz Truss(left) and Margaret Thatcher(right).
Unlike Rishi Sunak and other ministers who left Boris Johnson's cabinet after multiple scandals, Liz Truss stood with her boss to the very end. Her loyalty certainly played into her hands during the internal leadership contest. Interestingly enough, when Truss gave credit to Boris Johnson during her first speech as Tory leader, there was an awkward pause before the audience applauded her. On the other hand, in contrast to Johnson, whose political views and preferences were always hard to pin down, Liz Truss is a firm believer in radical right-wing economic policy.
This holds true, at least for now, as it is virtually impossible to predict what views Truss may have or what steps she may take after moving into 10 Downing Street. She is known among party members as a political shape-shifter. According to Foreign Policy magazine, Truss is "a mix of chameleon politics over a solid framework of belief, especially on geopolitics".
Listening to those who voted for Truss, one might assume that high taxes are the only challenge that Britain's new prime minister has to tackle. Obviously, that is not the case, as the list of the country's ills goes on and on this year. Above all else, typical household energy bills are expected to reach GBP 6,000 by next summer. This will cause inflation to top 13% per annum, a rate previously forecast by the Bank of England. As early as this October, heating and electricity bills are projected to soar by 80%. Hundreds of thousands of people who refuse to pay their utility bills will take to the streets. According to a recent YouGov poll, the vast majority of Britons will support such protests.
Liz Truss, who once wrote a book on liberal-market values, is likely to deal with the energy crisis in a radically non-market way. Bloomberg reported that Truss was widely expected to roll out a massive economic intervention in the energy markets that could see the government spend as much as GBP 200 billion (USD 230 billion) to cap energy costs. Given that energy companies are likely to make at least GBP 170 billion (USD 194 billion) in excess profits over the next two years, it would seem reasonable to have them pay more taxes to foot the bill.
In fact, it seems odd that ordinary Britons are impressed with the prime minister's pledge to cut taxes. After all, this policy comes with a number of disadvantages. First and foremost, injecting more money into the economy and limiting the flow of taxes into the budget at the same time are mutually exclusive. Capping energy bills and borrowing more to reimburse the costs of energy companies, the prime minister actually takes money away from every taxpayer, considering that such measures are bound to increase inflation.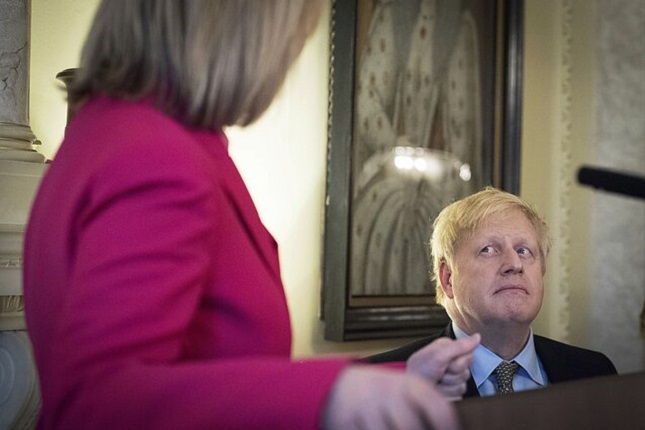 Liz Truss and Boris Johnson. Photo: AP nuotr.
In the international arena, the new prime minister adheres to anti-Russian rhetoric, consistently blaming Britain's troubles on Vladimir Putin and stressing the importance of energy sustainability and Western independence from Russian energy supplies. For instance, Truss clarified this during her meeting with German Chancellor Olaf Scholz.
To ensure long-term energy security, Truss promised to boost oil production in the North Sea and reverse a ban on fracking, a controversial practice that was halted earlier amid concerns over earth tremors. In addition, Truss intends to encourage the development of nuclear energy and scrap green levies on households and businesses.
Observers have long noted Truss's "hawkish" approach to foreign policy. Clearly, she seeks to make Britain a more significant player on the international stage. In doing so, she seems to be pushing Britain's partners aside, sacrificing pragmatism for ambition. When she was head of the Foreign Office, Truss ended up souring relations with several of Britain's allies.
Specifically, when asked during the leadership campaign whether she regarded French President Emmanuel Macron as a friend or foe, Truss declared that the jury was out. Macron responded that France would always perceive Britain as an ally regardless of its leadership. Generally speaking, it is unlikely that relations between the UK and the EU will improve under Truss. The new prime minister is unhappy that European laws are still in force in Britain after Brexit. Needless to say, she vowed to get rid of them completely.
According to the Financial Times, sources in US diplomatic circles described Truss's style as "blunt, binary and assertive". Some US officials said she was quick to take maximalist positions without thinking of the consequences. The Economist referred to the country's new leader as "a small-state conservative in a big-state era".
Liz Truss, for example, gave a public rebuke to the US, questioning the "special relationship" with America and adding that Britain's relations with Canada, Japan and Mexico are more special now. The new prime minister has consistently called China a threat to Western countries in general and Britain in particular. In essence, this approach is chipping away at numerous attempts made by her predecessor Boris Johnson and leadership opponent Rishi Sunak to flirt with Beijing.
As trade and foreign secretary, Liz Truss learned to sell questionable deals to the public as triumphs. For example, she is proud of having negotiated the release of British hostages in Iran. In reality, the detainees were released by Tehran in exchange for Britain paying a decades-old debt, but the deal was presented as the result of Liz Truss's subtle diplomacy. Now that Truss has taken over as prime minister, the British public has got a set of specific KPIs expressed in utility rates and retail price tags to evaluate her track record. However, it is unlikely that Truss will be able to meet these expectations.
If that is the case, Britain and the whole world are headed for a difficult couple of years. In 2024, Liz Truss will lead the Tory party during the next general election and, in all likelihood, suffer a defeat. Currently, a mere 20% of Britons are relatively happy with their newly appointed prime minister. About 70% of those polled believe that Britain is in decline and doubt whether the new government will be able to change things for the better.
Main photo: Liz Truss © Martyn Wheatley / Parsons Media / Keystone Press Agency / Global Look Press.