Out of a sudden, late July saw tensions flare up briefly in northern Kosovo. In a unilateral move, Albanian authorities decided to impose a requirement that all cars with Serbian number plates be immediately re-registered in Pristina's jurisdiction and that Serbia-issued identity cards be replaced with Kosovo's own IDs. Outraged and emboldened by official Belgrade's rhetoric, Kosovo's Serbs responded by mounting a series of protests and by barricading local motor roads. In retaliation, Albanian riot police and law enforcement aided by the US members of the international Kosovo Force (KFOR) moved to close off checkpoints on the Kosovo-Serbia border and deploy troops in Kosovo's Serbian border villages.
Soon after, however, the tensions dissipated just as suddenly and unexpectedly as they had flared up, with both Belgrade and Pristina thanking the US for its mediation efforts. Kosovo's Albanians chose to delay by a month the implementation of the decision to have the ID cards and number plates replaced, and the Serbs quickly dismantled their barricades. And yet, it would seem a bit premature to celebrate the easing of tensions and cooling of the Albanian and Serbian hotheads. The U.S. has clearly shown to all players, small and large, that it is in total control of the situation. The first round of the conflict could result in China being quickly driven out of the region with Serbia left with no choice but to join the anti-Russian sanctions. The next onslaught that will follow will be aimed at the de-facto obliteration of Serbia's statehood all but drawing Europe into a military conflict in the Balkans that threatens to plunge Europe into violence and accelerate EU member countries' mobilisation.
To a keen observer, the artificial and, perhaps, even prearranged nature of the current crisis between Serbia and Kosovo was apparent from the get-go. Just days before the recent dramatic escalation of tensions, US State Secretary Anthony Blinken had met in Washington with Kosovo's Prime Minister Albin Kurti and President Vjosa Osmani, the leaders of the self-proclaimed republic.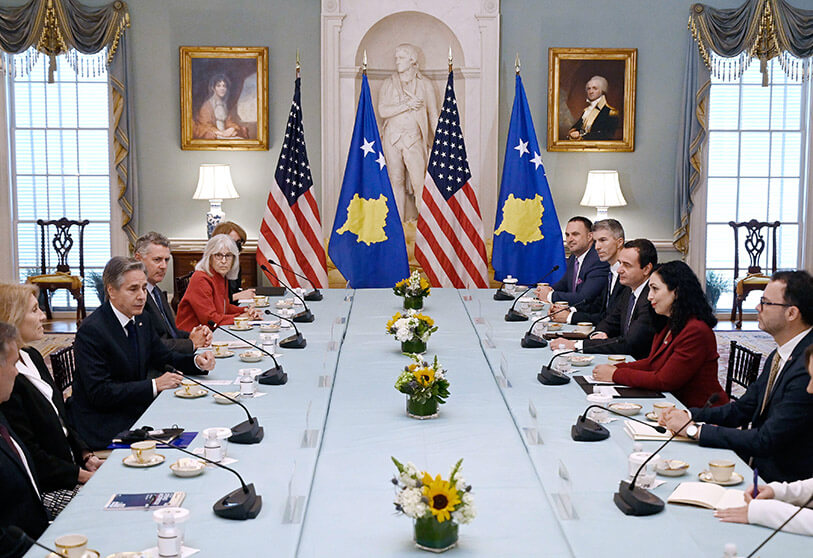 Secretary of State Antony Blinken, meets with Kosovo President Vjosa Osmani Sadriu and Kosovo Prime Minister Albin Kurti at the State Department in Washington, Tuesday, July 26, 2022. Photo: Olivier Douliery / AP
Almost immediately upon their return home, Kosovo's Prime Minister made several radical statements that caused irate Serbs and Albanians in Kosovska Mitrovica and other towns to take to the streets. This was followed by some harsh rhetoric from both Serbian and Kosovar politicians and military officials.
Serbia's Foreign Minister Nikola Selakovic believes that Kosovo's authorities "are preparing hell" for Kosovo's Serbs starting on August 1 by taking new steps meant to render invalid identification documents and number plates issued by Serbia. In turn, Serbian President Aleksandar Vucic issued a statement warning that Kosovo's military was scheming to target Kosovo Serbs in an attack scheduled for the night of July 31 and that Belgrade cannot stand by idly and that Serbia will "persevere and win". Having made this statement, he went on to attend a General Staff meeting.
In turn, Kosovo's Kurti blamed Vucic and his commissioner for Kosovo Petar Petkovic for "this mess", adding that Pristina was again facing "Serbian national-chauvinism". NATO's KFOR contingent that had deployed its troops on the Serbian border also issued a statement saying they would intervene if "stability of the country is threatened".
Adding fuel to the fire, TV reports coming from the region seemed to unanimously forecast an imminent war. But then the conflict was suddenly over. Serbian President Aleksandar Vucic appeared on TV and, having thanked KFOR, US Embassy, and EU officials for their mediation efforts, expressed hope for a dialogue that would help reach "a compromise".
While all this was going on, it came to light that US Ambassador to Kosovo Jeffrey Hovenier had succeeded in "persuading" Ablin Kurti and Vjosa Osmani to postpone for 30 days the implementation of the decision to have Serbian-issued number plates re-registered with Kosovo's authorities. For his part, Aleksandar Vulin, Serbia's Minister of the Interior, confirmed that "Serbia does not expect any destabilising steps from Pristina in the coming month".
Prime Minister of Kosovo Albin Kurti and US Ambassador Jeffrey M. Hovenier. Photo: indeksonline.net
The Columnist's sources in Serbia claim that despite the hysteria whipped up by the media, things were calm "on the ground" with everyone fairly confident that there would be no military conflict. According to one such source, "this is not the first crisis of this kind, nor is it the most serious one. This time, Serbia's military was not even put on full alert and no meetings of the country's Security Council took place. Even local activists known to always rally their groups of militia and move out toward the border with Kosovo and Metohija in serious cases of escalation, stayed put".
And yet, the fact that the conflict was artfully instigated only to be put out just as abruptly does not mean a return to the status quo. The decision to require Kosovo Serbs to get Kosovo ID cards instead of their Serbia-issued identification documents has only been postponed for just one month and it, therefore, continues to hang over Serbia's authorities like a sword of Damocles. It is very likely that the conditions that the US might have imposed on Serbia are such that it would simply not be able to say no to. This could include the requirement that Serbia join the anti-Russian sanctions as Belgrade's refusal to participate in Russia's blockade has been causing severe resentment by Serbia's Western counterparts. Now, should Vucic suddenly opt to join the blockade, he will have an excuse: "we did this to save our brothers in Kosovo and Metohija".
Another possible condition is for Serbia to curtail its relations with China, its key partner who has so far enabled Belgrade to "stay afloat" and maintain a certain degree of independence from the EU. Washington is eager to put an end to Serbia's being "China's gateway" to Europe. In this context, it is not surprising that the crisis in the Balkans coincides with the crisis around the visit to Taiwan by Nancy Pelosi, the Speaker of the US House of Representatives. It would appear that Serbia's Vucic has been given a month to think hard and bring his country's policies in line with those of the United States, or face war and investable loss of influence in Northern Kosovo and even some Albanian-populated municipalities in Southern Serbia that would be likely compounded by "playbook" ethnic purges. Serbia's armed forces number just over 22,000 troops leaving it no chance of winning a standoff against Albanian units reinforced by KFOR personnel.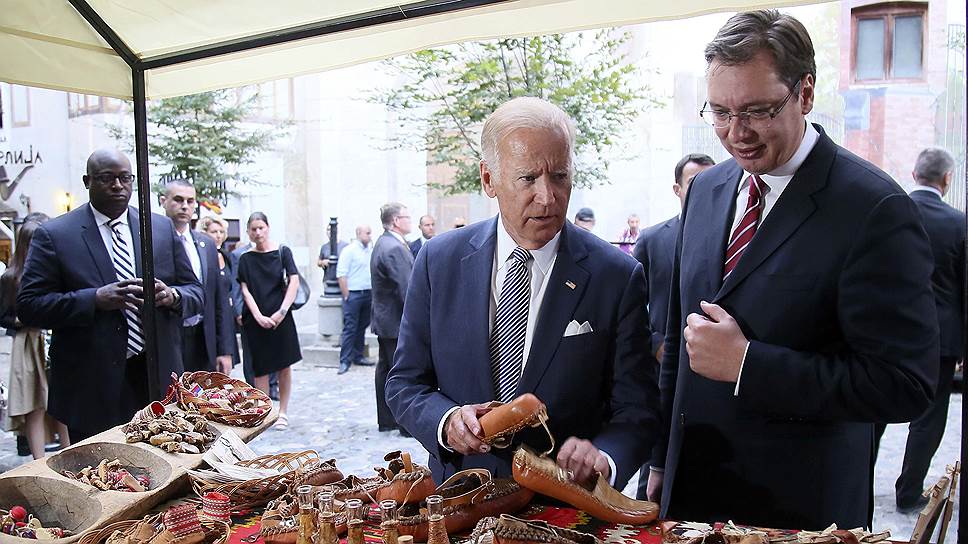 US President Joe Biden and President of the Republic of Serbia Aleksandar Vucic. Photo: Djordje Kojadinovic , Reuters.
But even that does not mean that in exchange for meeting all of the US's conditions Serbia will be able to keep the north of Kosovo for itself. Winston Churchill was credited with the saying that "if, when given the choice between war and shame, you choose shame, you will get war, too". This sums up very accurately Serbia's current predicament. Apparently, the wayward Vucic has been annoying the US and the EU for way too long.
Nor has the West ever abandoned its plans to give Pristina full control over the entire territory of the province. The continued creeping takeover of Serbia's lands and possible aggression by Kosovo Albanians and Muslim Bosnians laying claim to some parts of present-day Serbia, coupled with the inevitable economic fallout from joining the anti-Russian sanctions and severing ties with China, will invariably result in protests at home and in military clashes with Serbia's neighbors.
That said, the US itself is unlikely to get entangled in Serbia's internal affairs and will try to distance itself from all that, leaving Germany and other European countries who have long been irritated by Serbia's intransigence to deal with the country's "legacy". Previously, Europe's interference (especially by the Germans) in Serbian affairs had time and again resulted in escalating violence. What once started as military action against Serbia all but triggered World War One. Serbia's widespread and fierce resistance against Nazi Germany in 1941 forced Germany's military to adopt more ruthless combat tactics in a sign that its easy stroll across Europe ended with Serbia (and with Russia). Europe's involvement in the intimidation and pacification of Belgrade, along with its large-scale indirect participation in the Ukraine conflict, would inevitably result in its hardening its stance and in accelerating Europe's mobilisation.
Main photo: IA Krasnaya Vesna.