The war in Ukraine has laid bare global divisions and partnerships. The West has armed Kyiv and sanctioned Russia while China strengthened its relationship with Moscow. China has refrained from publicly condemning Russia's military aggression, which has drawn criticism from Ukraine, the United States and its allies. Though not a formal alliance, China and Russia have forged a friendship with "no limits", according to the leaders of both countries.
Russia and China have built stronger ties in recent decades, supporting each other on various global issues as they seek to counter US influence. But it hasn't always been this way. The two former communist brothers went through an ideological split, border conflicts and years of hostile military confrontation before mending relations.
Today, Russia tops the hierarchy of China's diplomatic partnerships. China defines its relationship with Russia as a "Comprehensive Strategic Partnership of Coordination for a New Era". It is characterised by "cooperation on all issues, including international affairs, military and technological development". Russian President Vladimir Putin invited China's leader Xi Jinping to visit Russia in March 2023 to "demonstrate to the whole world how strong the Russian-Chinese friendship is".
GEOGRAPHY
China and Russia share a 4,300km border, which was demarcated in 1991. In 2001, both sides signed the Treaty of Good Neighbourliness and Friendly Cooperation, which was renewed in 2021 for five more years.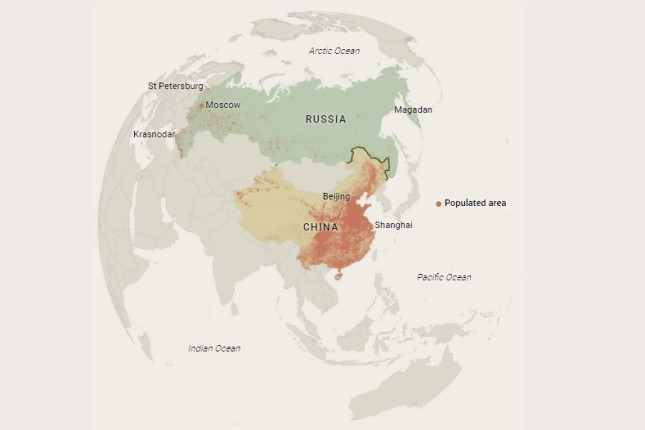 TRADE
China has been Russia's largest trade partner for more than a decade and Western sanctions on Russia over its war with Ukraine have seen their trade volume soaring. Russia is China's 14th largest trading partner. In 2022, Russia was China's largest oil supplier, second largest supplier of pipeline gas and fourth largest provider of liquefied natural gas. In September, Beijing and Moscow agreed to settle payments for Russian gas supplies to China in roubles and yuan, in an effort to insulate themselves from Western pressure.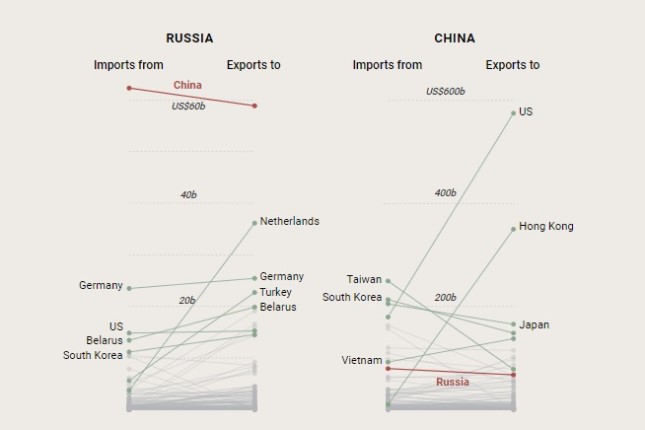 GEOPOLITICS
UN Security Council
China and Russia are both permanent members of the UN Security Council. They have veto powers on proposed UN resolutions.
Foreign visits
Xi and Putin are "best friends to heart", according to China's president who has met with his Russian counterpart more than 40 times since 2013 in bilateral and multilateral settings. In March 2023, they met in Moscow where they discussed topics that included bilateral cooperation, the war in Ukraine and a peace plan proposed by Beijing. The following chart shows key high-level bilateral meetings since the Mao Zedong era.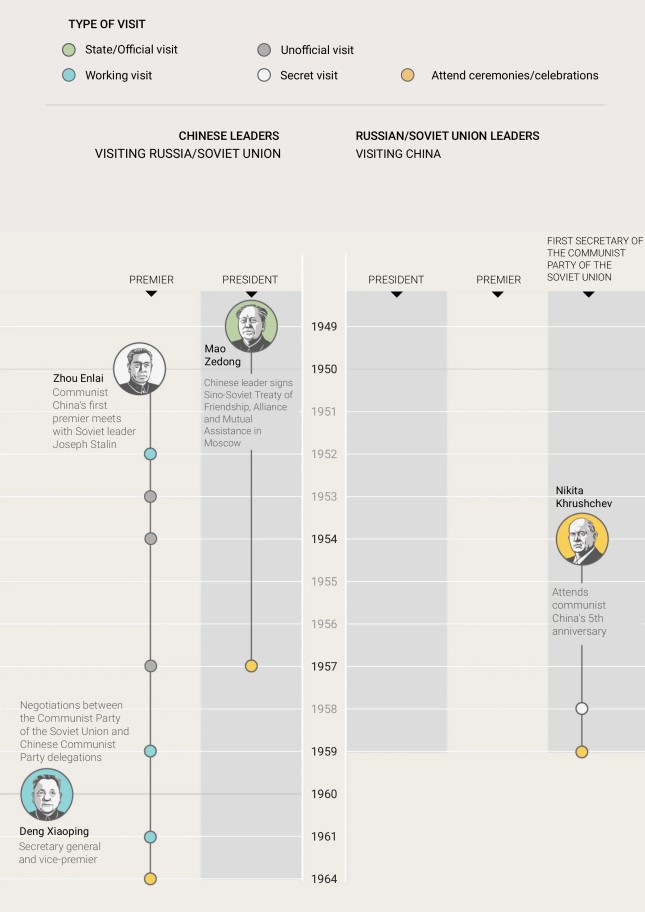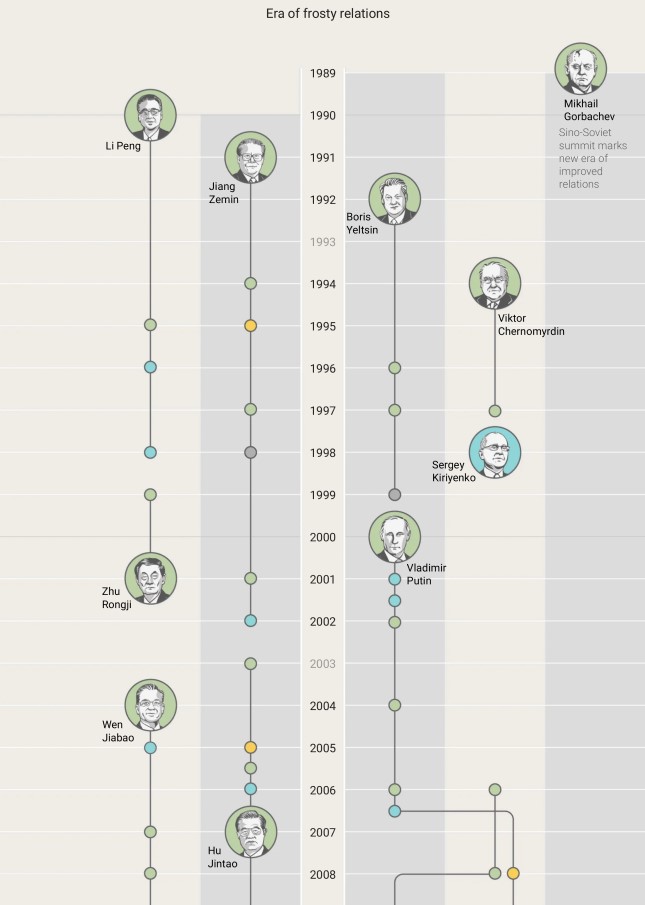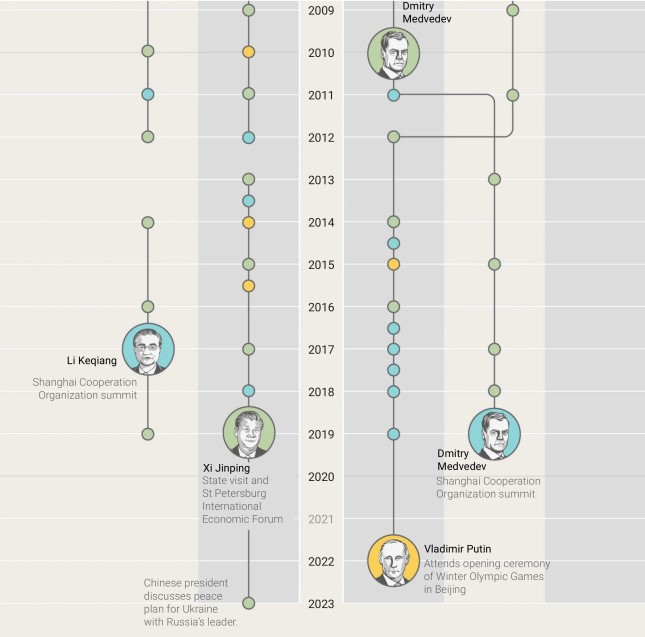 BRICS
China and Russia are also members of BRICS, a grouping of powerful emerging economies that also includes Brazil, India and South Africa.
Shanghai Cooperation Organisation (SCO)
China and Russia lead the Shanghai Cooperation Organisation, a grouping of Central Asian nations and their neighbours aimed at boosting security and economic cooperation.
TIMELINE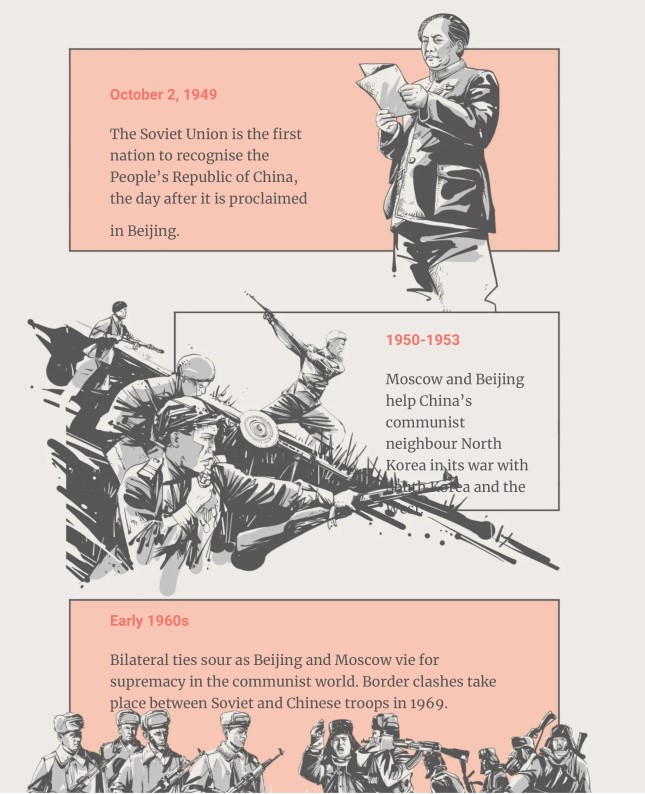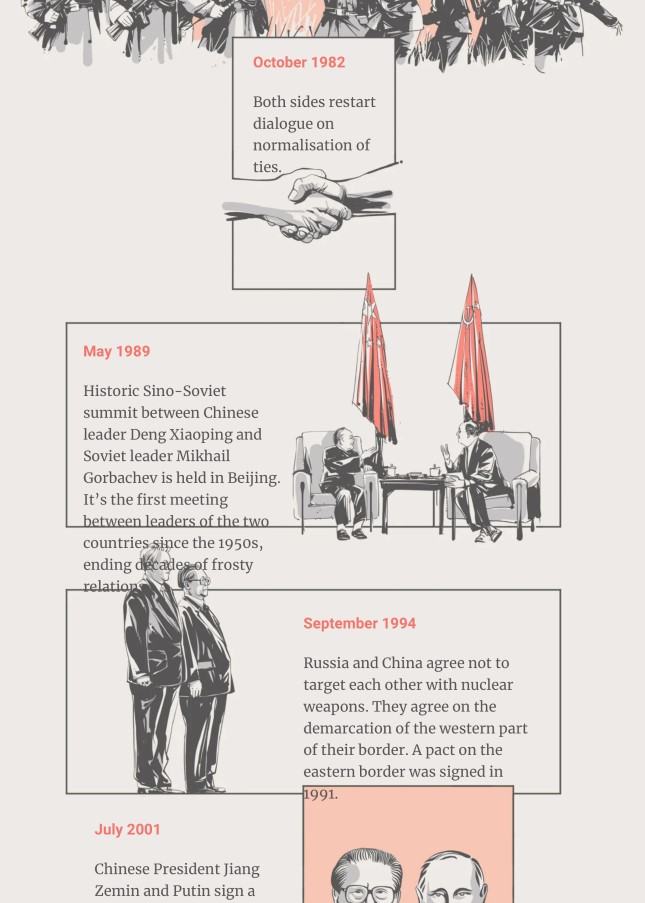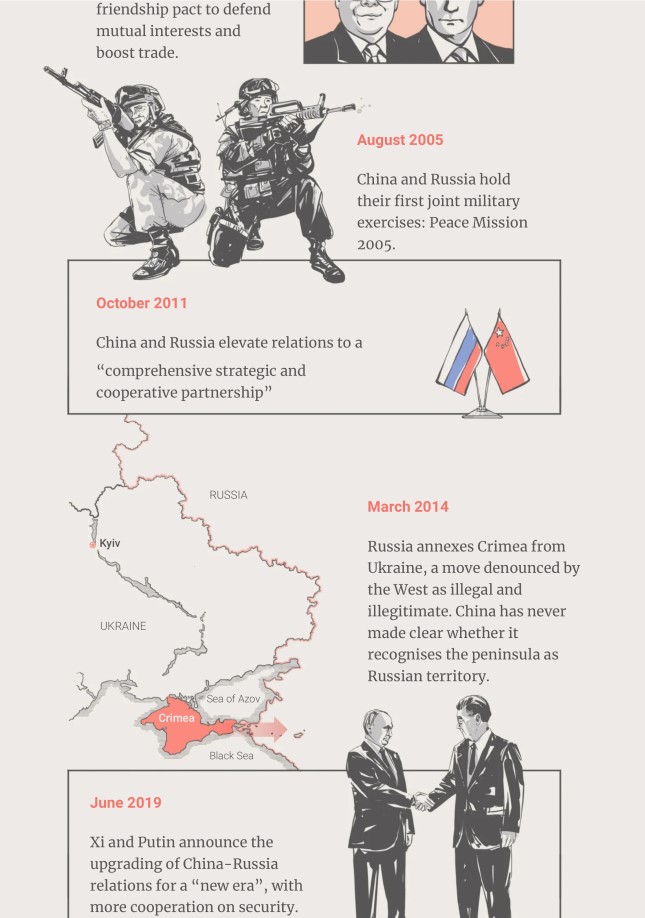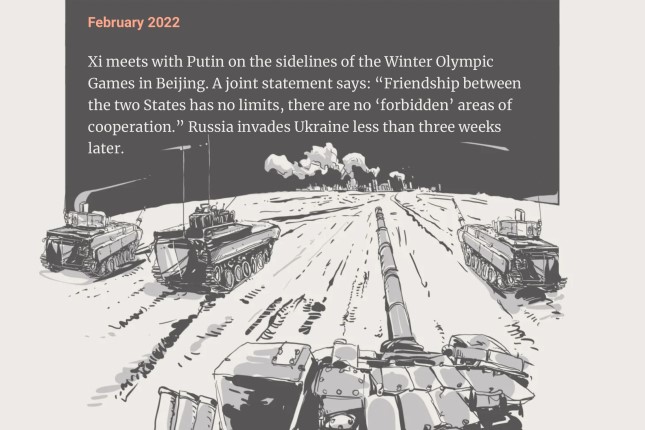 MILITARY RELATIONS
Defence cooperation is an integral part of the China-Russia comprehensive strategic partnership. In 2003, both sides joined other SCO member countries Kazakhstan, Kyrgyzstan and Tajikistan in the "Coalition 2003" anti-terror exercise. It was the first time China participated in a multilateral military exercise. A year earlier China participated in a bilateral exercise for the first time, with Kyrgyzstan. The first China-Russia joint exercise was in 2005.
Military exercises involving China and Russia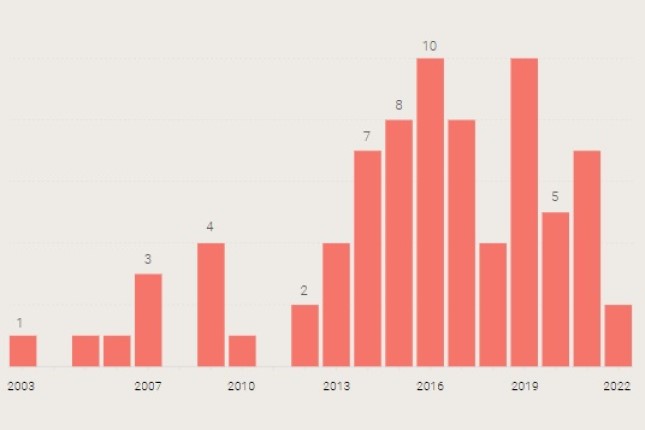 While China has been Russia's second-largest arms client after India, it previously also had defence ties with Ukraine. In recent decades, former Soviet republic Ukraine has sold key military equipment and technology to China, including its first aircraft carrier, the Varyag (which became the Liaoning), missile systems and a fighter jet prototype. During the Ukraine war China has consistently denied providing any weapons to Moscow.
Military expenditure by country (in US$ billion)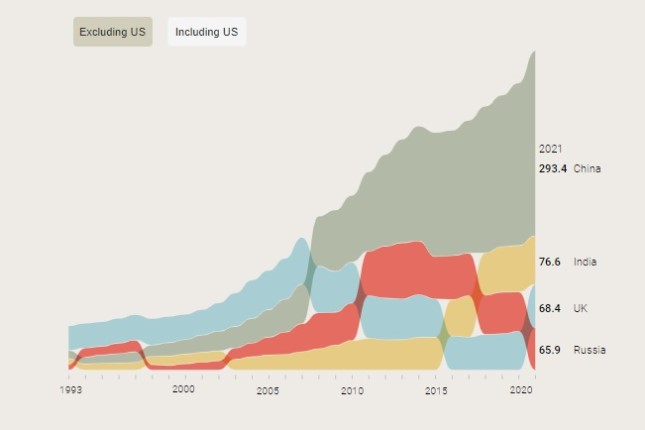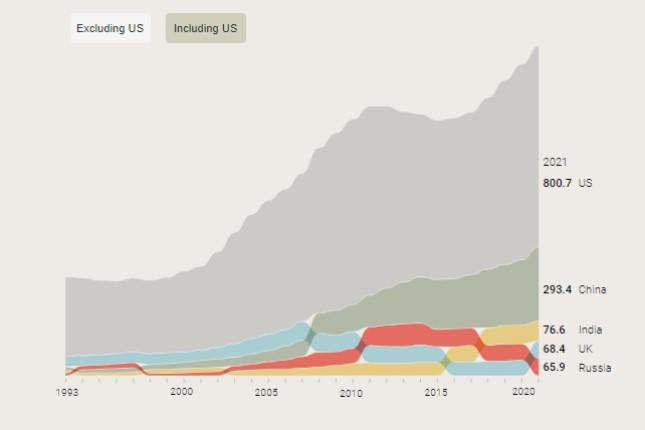 Source: Multimedia.