Azerbaijan on Tuesday launched a new assault against Nagorno-Karabakh in what appears to be the start of a new major war over the ethnic Armenian enclave.
Azerbaijan's Defense Ministry said it started an "anti-terrorist" operation against Nagorno-Karabakh and demanded the complete withdrawal of ethnic Armenian troops from the area and the dissolution of the de facto government, known as the Republic of Artsakh, which is based in the city of Stepanakert.
Artsakh officials said they have called for talks with Azerbaijan and a ceasefire. In response, the Azeri Presidency demanded a full surrender. "To stop anti-terrorist measures, illegal Armenian armed groups must raise the white flag, surrender all weapons, and the illegal regime must dissolve itself. Otherwise, anti-terrorist measures will be continued until the end," the Presidency said, according to CNN.
Gegham Stepanyan, a human rights ombudsman for Artsakh, wrote on X on Tuesday that the Azeri assault had so far killed 25 people, including two civilians. He also said 138 people were injured, including 29 civilians, as of 9:00 pm local time.
Azerbaijan's Defense Ministry said its forces had captured 60 military posts and destroyed up to 20 military vehicles. Baku claims it launched the assault in response to "systemic shelling" by Armenian-backed forces, but Armenia denies the accusations.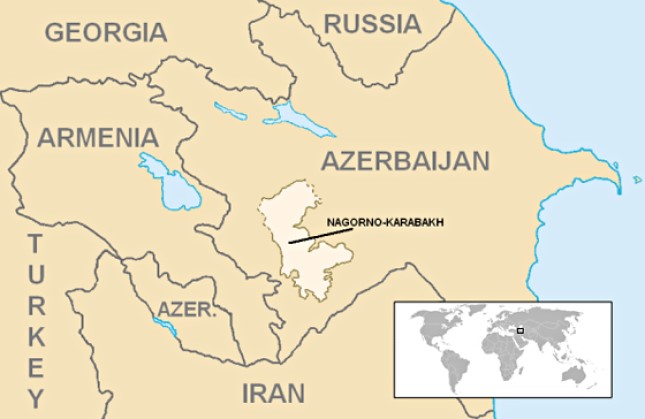 Location of Nagorno-Karabakh.
Nagorno-Karabakh is located in what's considered Azerbaijan's internationally recognized borders, which were drawn by the Soviet Union when Azerbaijan was a Soviet Republic. Ethnic tensions in the region culminated in the first Nagorno-Karabakh War, which lasted from 1988-1994 and ended with Armenia controlling territory around Nagorno-Karabakh.
In 2020, Azerbaijan launched the Second Nagorno-Karabakh War, which lasted 44 days and resulted in Azerbaijan controlling the territory around the ethnic Armenia enclave. The territorial situation left only one road linking Armenia to the 120,000 Armenians in Nagorno-Karabakh, known as the Lachin Corridor.
Earlier this year, Azerbaijan took control of the corridor and put Nagorno-Karabakh under blockade. The Azeris have been accused of attempting ethnic cleansing, and the Biden administration has been pressured by some members of Congress to end military assistance to Azerbaijan over the blockade, which has caused severe shortages of food and medicine.
Source: AntiWar.