Iran's navy commander said Thursday that an Iranian submarine made a US submarine come to the surface as it entered Iranian waters in the Strait of Hormuz, a claim the US military later denied.
"The US submarine was approaching while submerged, but the Iranian submarine Fateh detected it and carried out … maneuvers to force it to surface as it went through the Strait [of Hormuz]. It had also entered into our territorial waters, but … it corrected its course after being warned," said Commander Shahram Irani.
A spokesman for the US Navy's Fifth Fleet based in Bahrain denied that a US submarine was in the area. "A US submarine has not transited the Strait of Hormuz today or recently," said Commander Timothy Hawkins.
But earlier this month, Hawkins announced the deployment of a US guided-missile submarine to the region. "It is capable of carrying up to 154 Tomahawk land-attack cruise missiles and is deployed to US 5th Fleet to help ensure regional maritime security and stability," he said on April 8.
The announcement was meant as a message to Iran as it came at a time of heightened tensions, and the US rarely reveals the location of its submarines. The US is also stepping up its naval patrols through the Strait of Hormuz by using drone boats.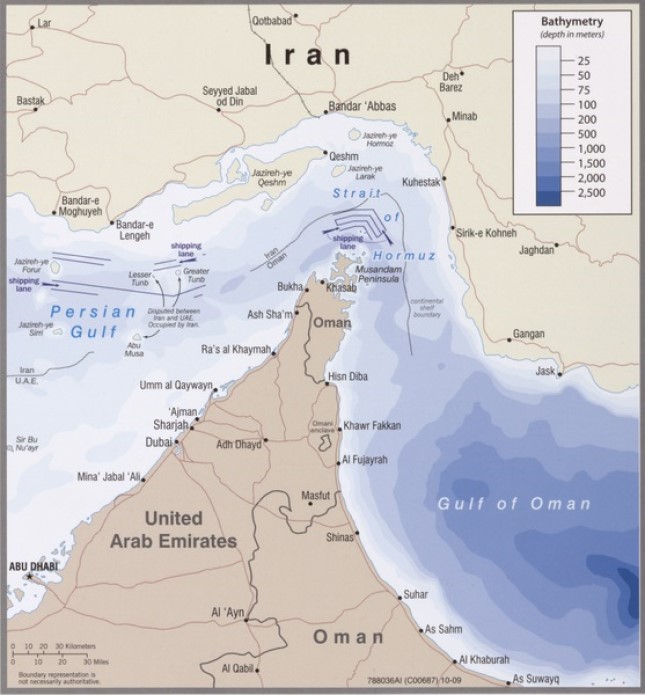 CIA map of the Strait of Hormuz.
On Wednesday, Hawkins announced the US sailed a 41-foot drone speed boat, known as a MAST-13, through the Strait of Hormuz for the first time. He said the boat was observed by Iran's Islamic Revolutionary Guards Corps (IRGC) but transited the Strait without incident.
Source: AntiWar.