Ukrainian President Volodymyr Zelensky on Sunday insisted the Ukrainian counteroffensive will continue despite the upcoming change in weather, which US officials have said will impede Ukraine's ability to continue the assault.
Chairman of the Joint Chiefs of Staff Gen. Mark Milley said last week that Ukraine only has between 30 and 45 days of "fighting weather" left as fall is approaching, meaning colder and wetter conditions that will make it harder for armored vehicle assaults.
"We need to liberate our territory as much as possible and move forward, even if it's less than [half a mile or] a hundred [yards] we must do it. we can't lose time," Zelensky said when asked about the weather on "60 Minutes."
"Forget about the weather, and the like. In places that we can't get through in an armored vehicle — let's fly. If we can't fly — let's send drones. We mustn't give Putin a break," he added.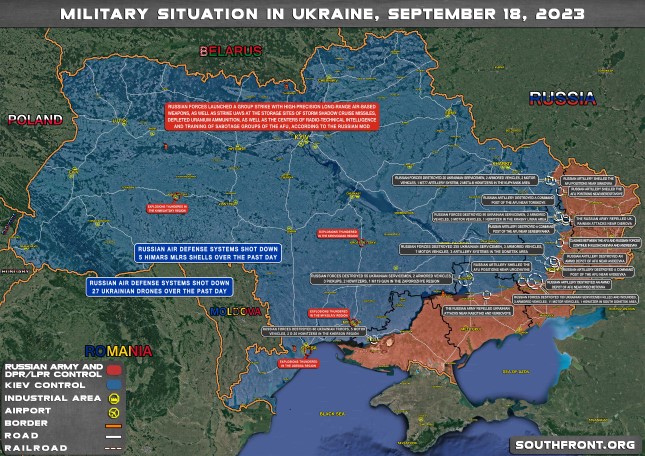 Military Situation in Ukraine on September 18, 2023. Photo: SouthFront.press.
Zelensky also insisted the counteroffensive was making good progress despite gaining no significant territory and bleak assessments from his Western backers. "The situation is tough. We stopped the Russians in the east and started a counteroffensive. Yes, it is not that fast but we are going forward every day and de-occupying our land," he said.
The Ukrainian leader blamed the US and other Western backers for the counteroffensive not starting before June, claiming weapons shipments were delayed.
Zelensky also reiterated his position that Ukraine is not willing to compromise with Russia for peace. When asked if he would give up any Ukrainian territory to end the war, he said, "No. This is our territory."
Also on Sunday, Milley spoke with CNN and said Ukraine's goal to kick Russia out of all the territory it has captured means the war will go on for a very long time. "I can tell you that it'll take a considerable length of time to militarily eject all 200,000 or plus Russian troops out of Russian-occupied Ukraine. That's a very high bar. It's going to take a long time to do it," he said.
Source: AntiWar.