Reports of unsafe conditions in schools and other public utility buildings, including hospitals and residential apartments, due to the use of RAAC, a less durable form of concrete, have triggered outrage in the U.K.
As schools in England and Wales reopened in September after the summer holidays, the Department for Education ordered over 100 schools to be fully or partially closed due to the imminent danger of collapse of roofs, ceilings, and other parts of the buildings where reinforced autoclaved aerated concrete (RAAC) had been used.
The Labour Party, the Communist Party of Britain (CPB) and trade unions including the National Education Union (NEU), NASUWT, and others, have slammed the negligence of the Tory government which continues to make cuts in public infrastructure development and has failed to upgrade school buildings.
A general sense of panic has struck the country as more and more reports come out of buildings including hospitals, theaters, residential blocks and government offices which have been affected by the use of RAAC.
A document published by the Department for Education on Aug. 31, and updated on Sept. 6, lists 147 educational institutions that have used RAAC and require attention.
RAAC, which is lightweight and cheap, was widely used in the U.K. from the 1950s to the 1980s until complaints about its quality and usage surfaced by the 1990s.
In the last decade, several RAAC failures were reported from schools and other buildings across the country, but no significant holistic redressal attempts were made by the government.
On the contrary, the Tory government slashed the budget for school renovations and rebuilding in 2010. Current Prime Minister Rishi Sunak also faced criticism when he was the chancellor of the exchequer for refusing to release sufficient funds to the Department for Education to rebuild the around 300-400 RAAC-affected schools.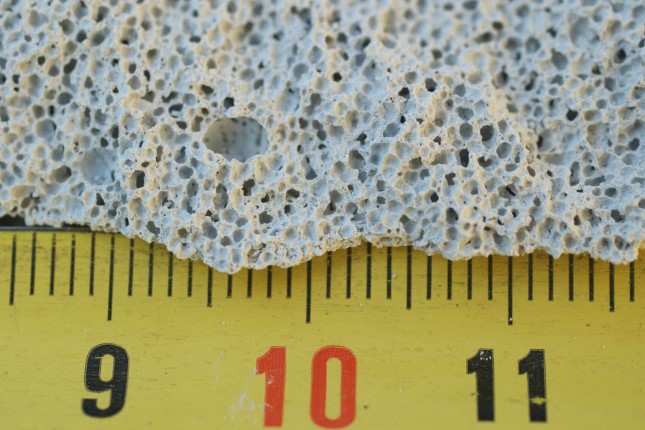 Detail of air bubbles in aerated autoclaved concrete component of RAAC, which reduce the material's density. Photo: Marco Bernardini / Wikimedia Commons / CC BY-SA 3.0.
Earlier this month, the government refused to compensate the RAAC-affected schools for finding alternative mechanisms to run classes, sparking outrage from teachers. The government was ultimately forced to backtrack on its stance.
NEU General Secretary Daniel Kebede, while addressing the Trade Union Congress (TUC) meeting in Liverpool on Sept. 12, said "the Tory Government's education policy merges austerity with a deep hostility towards those working in schools and an indifference to those studying in them. These qualities have shaped the incompetent policy-making that has dominated the last 13 years. The pandemic and its aftermath displayed this combination in disastrous technicolor, and the teacher recruitment and retention crisis provided further evidence of its effects. From this perspective, we should see the dramatic emergence of the RAAC scandal as a third, but probably not final, act. "What has long been known by unions, building experts, and civil servants has [this month] become a public scandal: schools told to close because they have been discovered to pose a risk to life; more than a hundred have been partially evacuated. These numbers will rise. And it's not just RAAC — according to the National Audit Office 700,000 children every day are taught in schools in need of desperate repair; 90% of schools still contain asbestos, creating a level of risk well beyond what is acceptable to expose our children to."
Main photo: Rishi Sunak, while chancellor of the Exchequer, hosting a school visit in 2002 © Tim Hammond / No 10 Downing Street.
Source: Consortium News.