Experts said Li's remarks ahead of the Shangri-La Dialogue are a warning to countries against supporting Taiwanese independence.
China's defence chief General Li Shangfu has told his Singaporean counterpart the PLA will "absolutely not" renounce the use of force on Taiwan, in what experts said was a warning not only to Washington but also to regional powers.
In a meeting on Thursday with Singapore's defence chief Ng Eng Hen, Li said Beijing would not tolerate the self-ruled island's Democratic Progressive Party seeking support from other countries for Taiwanese independence, according to Chinese defence ministry spokesman Senior Colonel Tan Kefei.
Andrew Yang Nien-dzu, a former Taiwanese defence minister and guest to the Shangri-La Dialogue, said the stern warning – issued a day before the security summit opened in Singapore – was aimed at European countries, Japan and Australia as well as the US.
"It's also rare for the PLA to name Taiwan's ruling party, the Democratic Progressive Party, when warning the Western countries, which is also a strong message to all Taiwanese political parties not to follow the DPP's steps," Yang said.
"But such a stern warning would not bother the Taiwanese public anymore, because everyone has been used to such warnings, including the Taipei authorities."
Taiwan – which is preparing for presidential elections in January – has become a flashpoint for tensions between Washington and Beijing, which has vowed to bring the island under mainland control.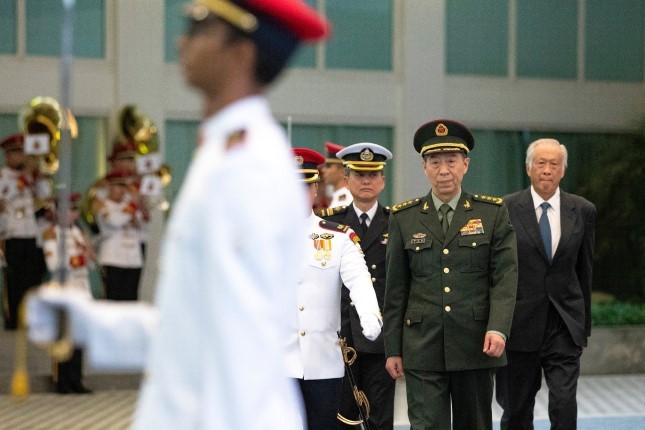 Chinese Defence Minister General Li Shangfu and Singapore's Defence Minister Ng Eng Hen (right), review honour guards at the Ministry of Defence in Singapore on Thursday. Photo: EPA.
Most countries, including the US, do not recognise Taiwan as an independent state. However, Washington opposes any use of force to change the status quo.
Zhou Chenming, a researcher at the Yuan Wang military science and technology think tank in Beijing, agreed that Li's comments are also meant for other countries in the region.
"Li's remark not only aimed to warn Washington and Taipei not to push 'Taiwanese independence movements' but also to remind Southeast Asian countries not to be used by the United States when handling the Taiwan issue," he said.
"The US always hopes Asean countries will do something for Taiwan, or stand with it to contain Beijing. So Beijing should repeat its stance firmly."
Taipei-based defence expert Chi Le-yi said the reiteration of Beijing's Taiwan policy at an international gathering like the Shangri-La Dialogue indicated that mainland China is facing a dilemma over its handling of the issue.
"Beijing has reiterated that the Taiwan issue is merely a domestic matter and no foreign forces would be allowed to meddle in it. As a result, it unexpectedly makes the Taiwan affair an international issue," Chi said.
"Reiteration of an old stance without any creative narrative would only pique curiosity among international communities to make clear about the Taiwan issue, especially the island's current political status – a self-ruled island with de facto sovereignty."
References to the DPP and the use of force usually come from Beijing's Taiwan Affairs Office. They were last mentioned by the defence ministry in December, in a statement issued in response to the Pentagon's release of its annual report on China's military power.
In the same press briefing on Thursday night, Tan said Beijing wants peaceful unification with Taiwan. "We will continue to strive for peaceful reunification with the greatest sincerity and greatest efforts," he said.
"But we will never tolerate any attempt by the Democratic Progressive Party authorities to seek foreign support for Taiwanese independence, nor will we tolerate any attempt by external forces to use Taiwan to contain China. We will absolutely not promise to renounce the use of force."
"Taiwan is China's Taiwan, and the Taiwan issue is the core of the core interests of China," Tan said.
The statement mirrored Chinese President Xi Jinping's address to the 20th Communist Party congress in October, when he began his third term as party leader.
Xi said mainland China would continue to seek peaceful unification with the "greatest sincerity and the utmost effort" but would "absolutely never promise to renounce the use of force" and "reserve the option of taking all necessary measures".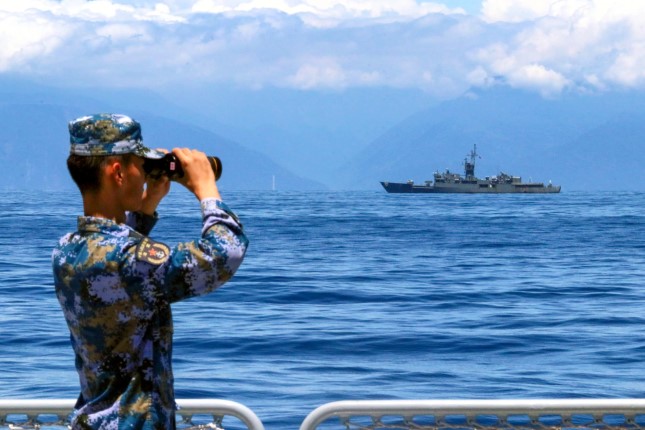 A People's Liberation Army soldier watches combat exercises and naval training in the Taiwan Strait. Photo: Xinhua.
Taiwanese President Tsai Ing-wen, nearing the end of her second term, is prohibited from running again. The DPP has nominated vice-president William Lai Ching-te to contest the election.
Lai supports the view that Taiwan is a sovereign and independent state and does not belong to the People's Republic of China.
Li is leading China's delegation of dozens of senior military officers and defence experts to the Shangri-La Dialogue, which begins on Friday.
It is Li's first attendance at Asia's biggest defence conference, where he will speak on Sunday about China's new security initiatives.
Main photo: Chinese defence ministry spokesman Tan Kefei at a briefing after Defence Minister Li Shangfu met his Singapore counterpart Ng Eng Hen on Thursday © Minnie Chan.
Source: South China Mornung Post.