Poland decided to become the largest military force in Europe. At the end of August, it signed major defence contracts with South Korea to supply hundreds of tanks and self-propelled artillery. Earlier, it was announced about large-scale military purchases from the US. Washington will provide Warsaw with tanks, strategic air defence systems, fifth-generation fighters, and helicopters. Experts estimated that the total Polish defence order portfolio hit USD 16 billion, with growth prospects of up to USD 30 billion.
As a result, the Polish combat power in modern conventional weapons will be comparable to that of the Russian army and significantly surpass the German military machine. Such a scenario cannot but worry both Moscow, which, in fact, is already at war with Poland on Ukrainian territory, and Berlin, towards which Warsaw is pursuing an increasingly aggressive policy. In this context, Russia and Germany can take the lead and put an end to both Polish ambitions and statehood.
Poland decided to arm its army with the most modern weapons at an accelerated pace. Warsaw plans to buy a total of 1,000 modern K2 Black Panther tanks and 600 K6 Thunder self-propelled guns (SPG) from South Korea. The first phase of the agreement, with 180 tanks and 212 SPGs, is to be implemented between 2022 and 2025. In addition, Warsaw is purchasing 48 FA-50 light fighters from Seoul. The US also implements contracts for selling 250 Abrams M1A2 tanks in the latest SEPv3 modification (28 already reached Poland), six Patriot SAM batteries, and 32 state-of-the-art F-35 stealth aircraft.
Should these plans be implemented in full, Warsaw will get one of the strongest armies in Europe. Experts estimate that considering the tank power alone, the total number of modern tanks in the Polish army will approximately match the staff number of those in the Russian military and several times exceed the tank power of the FRG, which has about 280 tanks in service.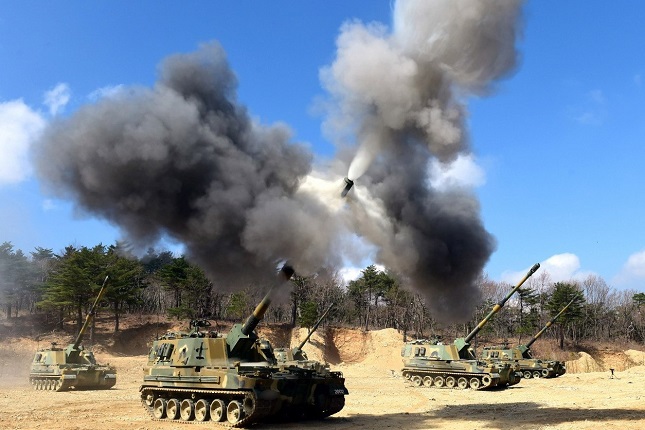 The 155-mm self-propelled K6 Thunder from the Land of Morning Calm is popular in Eastern Europe. The Estonian Defence Forces buys this kind of self-propelled artillery, too. Photo: tr.pinterest.com.
All this cannot but worry both Russia and Germany. Poland is effectively already at war with Moscow on Ukrainian territory, supplying equipment, military advisers, and special forces and serving as a key transit link in the supply of weapons to the Ukrainian army. In recent months, Warsaw and Kyiv have engaged in unprecedented cooperation and laid the foundations for partial administrative integration of the two countries. Moreover, Polish citizens have been granted special rights on Ukrainian territory. Sergey Naryshkin, Chief of Russia's Foreign Intelligence Service, has repeatedly stated that he believes Warsaw is preparing to annex the western regions of Ukraine, which were part of Poland before World War II.
Germany wouldn't want to have Poland strengthened that much, either. Over recent months, high-ranking Polish politicians have made unprecedentedly harsh statements against Berlin. For example, through ruling party leader Jarosław Kaczyński, Warsaw demanded that Germany pay multibillion-dollar reparations for the damage caused to the republic during World War II. Moreover, in the summer, Adam Glapiński, Head of the National Bank of Poland, accused Germany of its intention to return German territories given to Warsaw after the Nazis' defeat.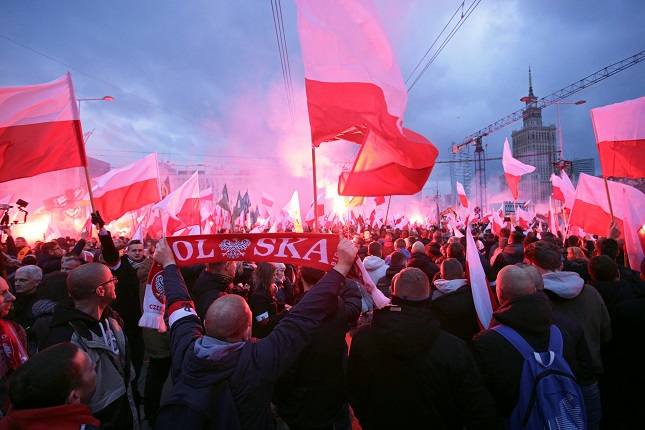 Not only Polish nationalists but also the ruling elite adhere to the principle of "Polska od morza do morza" (Poland from sea to sea). Photo: newsweek.com
Like Russia, Germany knows against whom, in the end, Poland is arming itself. Of course, Berlin will put a spoke in Poland's wheel in an effort to hinder its contract with Korea.
The fact is that the modern South Korean K2 tanks purchased by Warsaw are the product of German and French technology. The Black Panther has a new EuroPowerPack power pack with a German MTU MB-883 Ka-500 diesel engine rated at 1500 hp developed by the MTU Friedrichshafen company and automatic 5-speed transmission developed by the German company Renk.
The Korean tank is based on the German Rh-120, and the autoloader is derived from the French Leclerc one. Therefore, it is quite possible that the Germans can partially disrupt the supply or significantly reduce its volume. But even in this case, the scale of Polish militarisation will be unacceptable for Germany.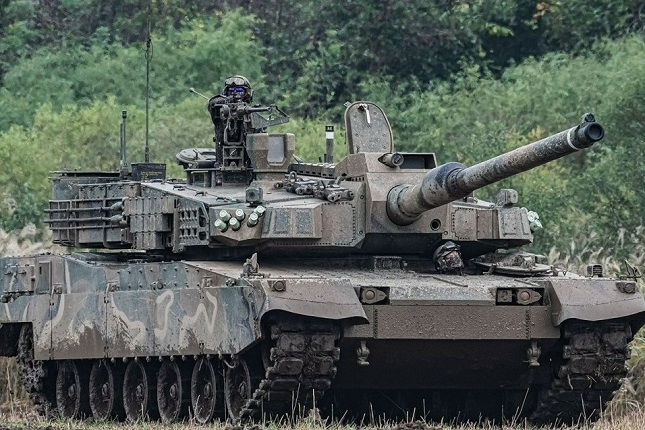 The Black Panther, the Korean tank of German origin, is a very serious fighter for the European war theatre. Photo: thedeaddistrict.blogspot.com
It seems that the Poles' ambitiousness and belligerence may once again play a cruel joke on them. Poland is already getting US tanks; apparently, some of the Korean machines will be supplied "from stock". Warsaw may try to consolidate its diplomatic successes with military ones and enter Ukrainian territories to secure them from Moscow. The entry of Polish troops into Western Ukraine can inevitably result in a direct military clash with the armies of Russia and Belarus, heavy fighting, and losses for the Poles.
In these circumstances, the Bundeswehr, "invigorated" by considerable investments in the German defence industry, could offer to help Warsaw. Under the pretext of defending Poland from Russia, Germany could occupy the former German lands of Eastern Pomerania, Eastern Brandenburg, Szczecin, parts of West Prussia, parts of Silesia, and Danzig (now Polish Gdansk) to stay there forever. After all, Poland has very shaky rights to these territories. The Soviet Union transferred German lands to Poland, and the relevant treaties were signed with the German Democratic Republic. Neither the USSR nor the GDR exists anymore, and the Poles have no fixed right to German territory.
As a result, it is getting quite similar to what it was before World War II. Warsaw's military-political ambitions were beyond its power, and Poland lost territory and statehood. No matter how dramatic the relations between Russia and Germany may be in the future, Moscow and Berlin are quite unlikely to make the mistake of allowing Poland to rebuild a powerful state at the expense of neighbouring lands.
Main photo: Polish army tank troops salute as their ranks roll one one of the city's main streets during a yearly military parade celebrating the Polish Army Day © AP / Alik Keplicz.