Now that the powder smoke has cleared and the most serious destruction has been removed, we can take stock of the New Year's Eve riots that made headlines at home and abroad. It is clear that not only in Germany, but also in many other EU countries, the situation is out of control. It is also clear that, almost without exception, migrants have been responsible for the escalation of violence.
In many German cities, especially in West Germany, there was a clear excess of violence. According to the Bild newspaper, "mostly young people" − the now-familiar designation of "migrants" − fought street battles with police and other emergency services across the country. In Berlin alone, the police and fire department engaged 3,943 people.
Numerous videos on social media show migrants in Berlin and other cities setting up barricades, attacking houses, cars and people with fireworks and rockets, and then attacking the troops. In the capital alone, 22 sexual crimes have been reported, including sexual assault, sexual violence, rape, exhibitionist acts and sexual harassment.
With the escalating violence, even experienced emergency services were "shocked." The police are talking about "the most tense New Year's Eve in recent years." However, all 145 rioters who had been temporarily arrested were released by the beginning of the week. Such cosy justice is ordered by politically responsible people in order not to interfere with demographic development planned for the long term.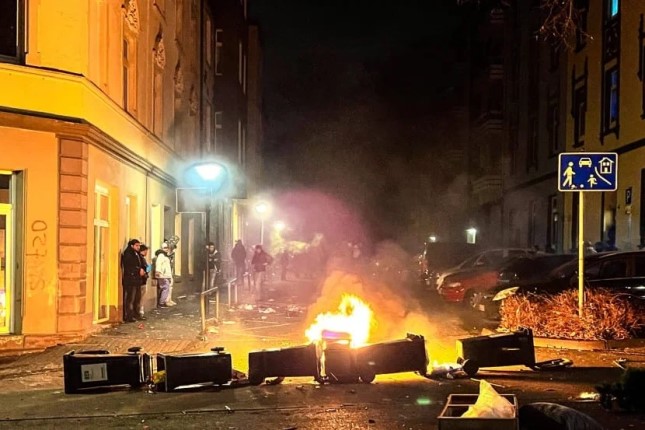 New Year's Eve on the streets of NWA. Photo: A.Talash.
The West German state of North Rhine-Westphalia (officially 14.2 per cent foreigners) was also affected by the riots. Police officers were attacked in a number of cities and municipalities. In the city centre of Bochum, about 300 people threw fireworks at police officers after they took a gun from a 17-year-old. Problems also arose in Essen, where about 200 people threw firecrackers and rockets at cars and other people. A total of 42 policemen and policewomen were injured.
Neighbouring Austria, which is usually considered to be rather quiet, was also hit hard. In Vienna, police had to respond to 1,902 incidents on New Year's Eve. The situation was most acute in a residential complex in the Floridsdorf district, where the majority of the population is of "migrant origin": hundreds of masked people with balaclavas and scarves attacked police officers − an eyewitness speaks of a "battlefield." In 221 cases the identities of the suspects were identified, 30 charges were filed and two arrests were made. Three men raped a 17-year-old girl in Vienna's Stadtpark; no trace of the perpetrators was found.
Even in the quiet Austrian provinces there were violent clashes: in Wels in Upper Austria police and firemen were attacked with firecrackers during an operation, in Salzburg a mass fight in front of a club ended with shots fired by a Romanian security guard.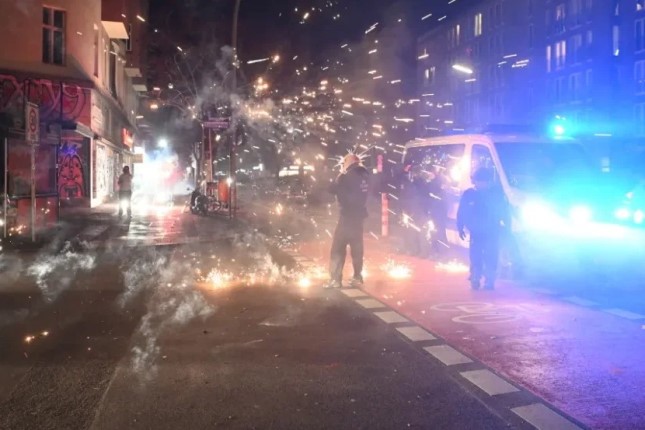 Police under fire.
Apart from Germany and Austria, New Year's Eve was marred by migrant riots in many other European countries. In France, almost 700 cars caught fire and around 500 rioters were arrested. Video footage of cars being set on fire and of attacks on police officers is emerging from many French and Belgian cities. In Brussels, paramedics even had to stop attempted resuscitation because firecrackers were thrown at them. In the "hot spot" of Cyprus, around 60 migrants staged a mass brawl in the centre of Larnaca on New Year's Eve.
Given the mass riots, the mainstream media felt it necessary to report on them, but kept silent about the cause of the unrest. The "tagesthemen", the main news on German television, reported that the violence had been triggered by sentiments accumulating in the society after two years of a pandemic. As a consequence, German politicians are now calling for a ban on firecrackers throughout Germany.
However, it is not the pyrotechnics that are to blame for the unrest, but the migrants who use them. At least the Berlin police have now released information about the ethnicity of the rioters: a total of 18 different nationalities were recorded among the 145 people arrested. 45 of the suspects were of German nationality, 27 of Afghan nationality and 21 of Syrian nationality. However, experience teaches us that even of the 45 "German" nationals, the vast majority are naturalised citizens or people born in Germany with a "migration background."
It is striking that there have been no New Year excesses in Poland, Hungary, the Czech Republic and Slovakia, for example. In these countries the number of immigrants is limited or tends to zero.
The reverse conclusion is also true: the responsibility for New Year's excesses lies with a policy that for many years − as in Germany − has been responsible for the constant, even deliberate flooding of Western Europe with mostly uncultured, unskilled migrants from all over the world, who do not want to work.
The new year also showed that German politics had not learned anything from the 2015/16 "refugee" tsunami, which former Chancellor Angela Merkel was guilty of causing. On the contrary: the current "traffic light" government is not missing any opportunity to open even more floodgates to immigration.
If the number of immigrants continues to grow at this rate and the population exchange is not stopped in time, we will have to get used to "New Year customs" as at the recent turn of the year − but in the future not just on New Year's Eve and not just with pyrotechnics. Beirut says hello to you!